31 Spaniards in the European Cup in Ceuta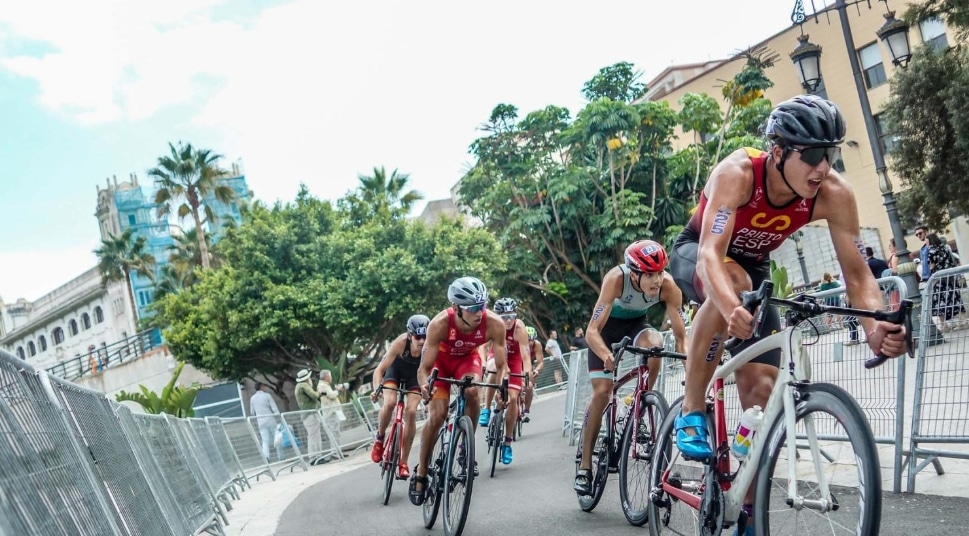 This Sunday, October 8, the autonomous city of Ceuta will be the scene of the Triathlon European Cup, which will also serve as Mediterranean Triathlon Championship.
The Spanish presence is especially notable, with great options for medals in both categories.
Favorites
In the male category, Nan Oliveras y Kevin Viñuela They start as two of the big favorites to win.
Both athletes have well-defined strategies; While Kevin will try to lead from the swim, Nan and the rest of the group will look to absorb any advantage in T2.
Furthermore, young people like Andres Prieto, Andrew Hilary y nacho galvez They are also prepared to fight for the podium.
This event will mark the return of Nacho González, absent due to injuries, and Miguel Guzman, who had dedicated himself to athletics. Both have the potential to surprise in the competition.
In the female category, Cecilia Santamaría She will be the undisputed leader of the Spanish team.
With experience in events of this caliber, Cecilia will seek medals alongside young talents such as María Casals, Natalia Castro and Paula del Pozo.
Event Schedules
11:30: Elite Women's Event

13:30 p.m.: Men's Elite Event
Where to see it live?
The test can be followed live through RTVE Play
Awards
The event has a cash prize of €10,000, distributed among the first 10 places in each category.
| Range | Men | Women |
| --- | --- | --- |
| 1 º | € 1,250 | € 1,250 |
| 2 º | € 1,000 | € 1,000 |
| 3 º | € 750 | € 750 |
| 4 º | € 500 | € 500 |
| 5 º | € 400 | € 400 |
| 6 º | € 350 | € 350 |
| 7 º | € 300 | € 300 |
| 8 º | € 200 | € 200 |
| 9 º | € 150 | € 150 |
| 10 º | € 100 | € 100 |
List of Spanish Participants
Men
| Start Number | Name | Last Name | Year of birth | Country |
| --- | --- | --- | --- | --- |
| 1 | Nan | Oliveras | 1993 | ESP |
| 3 | Kevin Tarek | Vinuela Gonzalez | 1995 | ESP |
| 8 | Jesus | Jimenez gimeno | 2001 | ESP |
| 20 | Juan | Gonzalez Garcia | 2002 | ESP |
| 21 | Andrew | Hilary Morales | 1999 | ESP |
| 22 | Andrés | Prieto Villar | 2003 | ESP |
| 29 | Pau (FR) | Noguera Salmerón | 2000 | ESP |
| 32 | Jose Ignacio | Galvez Ponce | 2001 | ESP |
| 42 | Adrian | martinez bayan | 2002 | ESP |
| 44 | Javier | Coscolla Paraled | 2001 | ESP |
| 54 | Eduardo | Blanco Mollá | 2002 | ESP |
| 57 | Alexandre | Alvarez Ferreira | 2003 | ESP |
| 59 | Miguel | Guzman Tafalla | 2003 | ESP |
| 72 | Jesus | Candle candle | 2004 | ESP |
| 74 | Nicholas | Heir Carazo | 2002 | ESP |
| 75 | Ignacio | Gonzalez Garcia | 1996 | ESP |
Women
| Start Number | Name | Last Name | Year of birth | Country |
| --- | --- | --- | --- | --- |
| 2 | Cecilia | Santamaria Surroca | 1997 | ESP |
| 3 | María | Casals-Mojica | 2002 | ESP |
| 6 | Natalia | castro santos | 2002 | ESP |
| 15 | Paula | From the drunken well | 2002 | ESP |
| 19 | Irate | Arenal Arribas | 2001 | ESP |
| 23 | Maria | Raised Up | 2002 | ESP |
| 27 | Lucia | acosta suarez | 2002 | ESP |
| 29 | Maria Teresa | Jiménez-Orta Guerrero | 2003 | ESP |
| 30 | hilt | Penalty Vicente | 2003 | ESP |
| 31 | Ana | Gomez Carballo | 2004 | ESP |
| 37 | Clara | aulinas prat | 2001 | ESP |
| 38 | Marina | Munoz Hernando | 1999 | ESP |
| 39 | Irene | Moro Betrian | 2003 | ESP |
| 42 | Sara | Germany Seguer | 2000 | ESP |
| 43 | Elizabeth Mary | Navarro Garcia | 2004 | ESP |