Alejandro Santamaria and Saleta Castro win in the Elche triathlon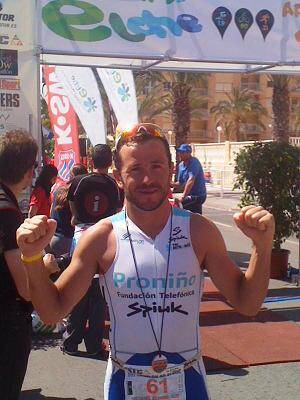 Arenales del Sol became a true sports festival yesterday on the occasion of the VIII Triathlon of Elche "Arenales 113", which brought together almost a thousand triathletes in the Elche district in the competition organized by the Elche Triathlon Club and A300w .
The weather was benevolent and the wind made an appearance in the cycling segment, but not with the expected force. The participants were able to complete the 1,9-kilometre swim, 90-kilometre bike ride and 21,1-kilometre run on foot without major setbacks other than those imposed by their own physical condition. In addition, there was an exceptional atmosphere in the streets of Arenales del Sol, which were flooded with companions, volunteers and onlookers.
At ten minutes to eight in the morning, the starting gun was given to all the female age groups, to be followed five minutes later by the male elite, and successively by the different age groups. From the beginning, the Galician Saleta Castro (Cidade Lugo Fluvial), the eventual winner, imposed its law in the swimming and cycling segments, controlling its rivals at all times in the final half marathon. Castro reached the finish line with a time of 4 hours, 38 minutes and 31 seconds, leading the second classified, Estefanía Gómez (Saltoki) by almost seven minutes and Anna Rovira (Team Calella) by more than 12 minutes.
In boys there was an intense one-on-one between Alejandro Santamaría from Madrid and Pedro Miguel Reig (Diablillos) from Alicante. Reig came out of the water in first position, since he maintained the 90 kilometer bike ride, to bend the knee against Santamaría in the last seven kilometers of the race on foot, in which the Spaniard made use of his exceptional stride to reach the finish line with a time of 4 hours, 2 minutes and 28 seconds. Reig arrived in less than a minute, while the Finn Tuukka Mietinen (Koiviston) was third, just two minutes behind.
Source: diarioinformacion.com