David Castro European Triathlon Champion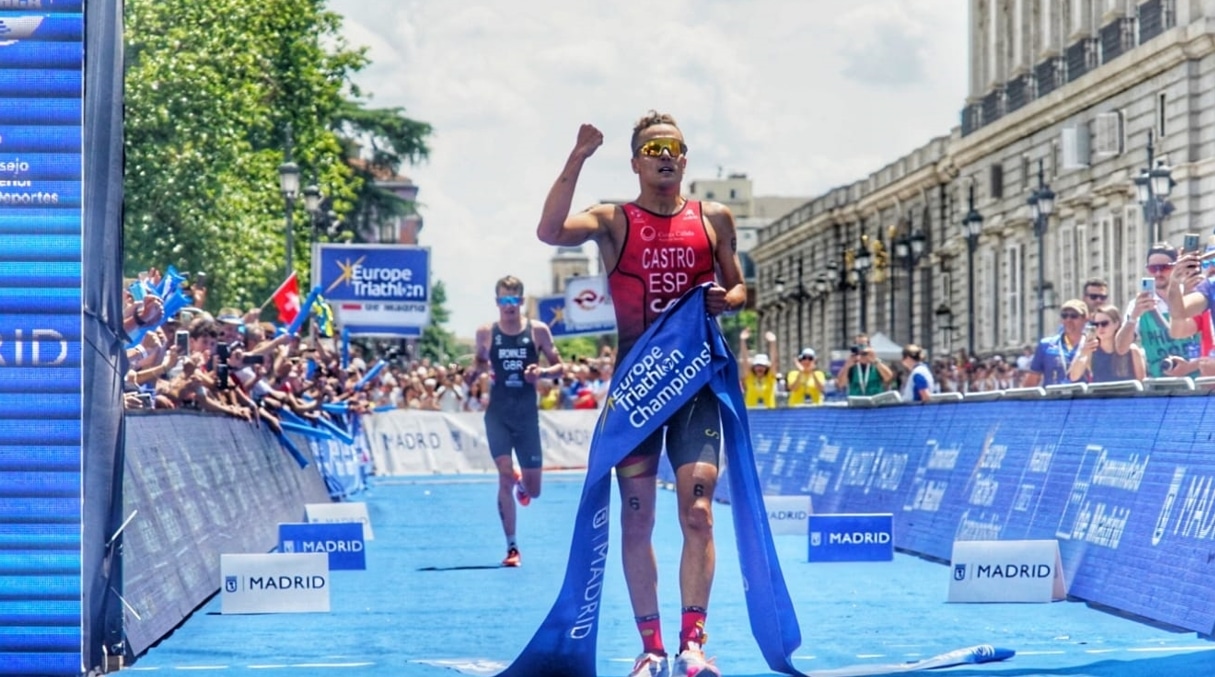 The triathlon has a new King of Europe and how could it be otherwise, under the watchful eye of the Madrid public at the finish line located next to the Royal Palace, it has a Spanish name and surname, David Castro Fajardo.
The Rodense achieved the final victory prevailing in the last meters to the triple olympic medalist Jonathan Brownlee
It will undoubtedly be the image that will remain in the retina of the thousands of fans who came to enjoy the show, but a large part of the triumph of the Spanish triathlete was due to the spectacular comeback that he achieved in the foot race, discounting the 31 seconds that I was at a disadvantage after the cycling segment.
"I still don't believe it. When I got off the bike I was thinking about fighting to get into the top 10, but little by little I caught up with them and I was able to get ahead. It has been incredible to be able to beat Jonatahn Bronwlee here in Madrid, with a spectacular atmosphere"Castro stated.
The bronze medal was awarded to the Swiss Adrien Briffod and as for the rest of the Spaniards, David Cantero finished in seventh position, 20th. Mario Mola, 22º Alberto González, 29º Genis Grau while Antonio Serrat he was forced to drop out of the race.
In the Women's Category, the Luxembourger Jeanne Lehair was proclaimed European champion, beating the German Lisa Tertsch, who ended up getting the Silver medal, while the Bronze went to the Swiss Cathia Schär.
The best of the Spanish was Miriam Casillas who finished in fifth position. "It has been a very tough test, I have been fighting the whole race, I would have naturally liked to get a medal, but I have done what I could".
I don't know if I would have achieved a better result with swimming, you never know, but you have to adapt, if triathlon has something, it is that we depend on the weather and the circuits and precisely that, adaptation, is one of the conditions that every triathlete should have", commented Miriam Casillas about the elimination by Europe Triathlon of the swimming segment in the Casa de Campo Lake, as the water did not meet the high standards set by the European Federation.
For her part, Noelia Juan finished 21st, Anna Godoy 28th, Natalia Castro 34th, while Marta Pintanel, Cecilia Santamaría and Iratxe Arenal had to drop out.
The European Championship in Madrid has been the second event of this historic year 2023 after the last Multisport World Championship in Ibiza and the Grand Final of the World Series that will be held in Pontevedra from September 20 to 24.