Nan Oliveras fourth in the European Cup in Melilla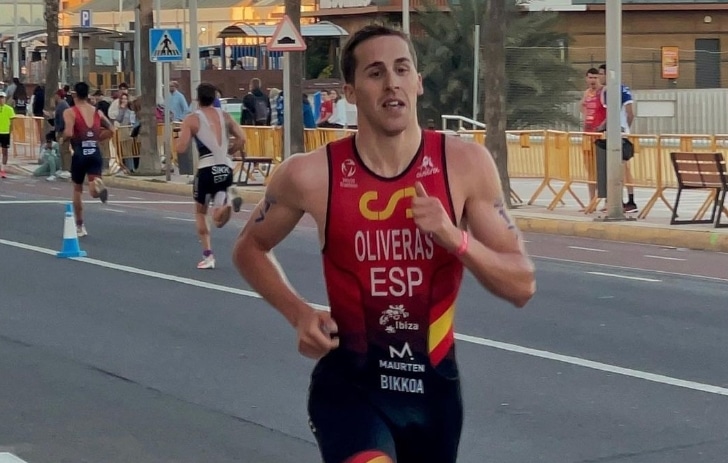 After the women's event where the Spanish Cecilia Santamaría was quarter, the masculine test was disputed.
The favorites won since the French triathletes did not want surprises and dominated with authority from the cycling segment.
louis vitello Vitiello crossed the finish line with a time of 00:52:18, followed by Nathan Grayel (00:52:22) and Guillaume Hay (00:52:28).
The best ranked Spaniard was Nan Oliveras in fourth place with a time of 00:52:48
Andrés Hilario, Pau Noguera y Andres Prieto they also slipped into the top ten places.
Men's 10 Top
| Position | Name and Surname | Time | Country |
| --- | --- | --- | --- |
| 1 | louis vitello | 00:52:18 | FRA |
| 2 | Nathan Grayel | 00:52:22 | FRA |
| 3 | Guillaume Hay | 00:52:28 | FRA |
| 4 | Nan Oliveras | 00:52:48 | ESP |
| 5 | Jannik Schaufler | 00:52:53 | GER |
| 6 | Jonas osterholt | 00:53:00 | GER |
| 7 | Andres Hilario Morales | 00:53:05 | ESP |
| 8 | Pau Noguera Salmerón | 00:53:08 | ESP |
| 9 | Baptiste Massot | 00:53:10 | FRA |
| 10 | Andres Prieto Villar | 00:53:11 | ESP |
Classifications of the Spanish
These are the positions and times of the Spanish triathletes in the test
| Job title | Name | Last name | Time |
| --- | --- | --- | --- |
| 4 | Nan | Oliveras | 00:54:59 |
| 7 | andres hilario | Morales | 00:55:08 |
| 8 | Pau (FR) | Noguera Salmerón | 00:55:11 |
| 10 | Andrés | Prieto Villar | 00:55:13 |
| 16 | Javier | Coscolla Paraled | 00:55:34 |
| 19 | Guillem | safe arnau | 00:55:39 |
| 22 | Angel | Sanchez Careers | 00:55:50 |
| 23 | Andrew | cendan llorens | 00:55:57 |
| 27 | David | Field Flowerbed | 00:56:26 |
| 28 | Juan | Gonzalez Garcia | 00:56:30 |
| 29 | Adrian | martinez bayan | 00:56:32 |
| 31 | Alvaro | Martinez Garcia | 00:56:37 |
| 33 | Miguel | Guzman Tafalla | 00:56:57 |
| 34 | miki | Riera Blesa | 00:57:06 |
| 35 | Pau (FR) | Gonzalez-Espresati Clement | 00:57:15 |
| 36 | Gorka | Rodriguez Hernandez | 00:57:18 |
| 37 | Daniel | tolosa aguelo | 00:57:22 |
| 41 | Pablo | abbot castle | 00:57:54 |
| 42 | Victor | Bouzon Garcia | 00:58:15 |
| 43 | Esteban | Basanta Fouz | 00:58:16 |
| 44 | Nicholas | Heir Carazo | 00:58:17 |
| 45 | Ruben | Pereira Garcia | 00:58:46 |
| 49 | Carlos | Lozano Fernandez | 00:59:24 |
| 50 | Mark | Del Alamo Martinez | 00:59:34 |
| 51 | Eduardo | Escalante Gutierrez | 00:59:42 |
| DNF | Kevin Tarek | Vinuela Gonzalez | DNF |
| DNF | Joan | Reixach April | DNF |
| DNF | Jose Ignacio | Galvez Ponce | DNF |
| DNF | Ricardo | War Claveria | DNF |