David Castro wins at the Taupo Oceania Cup
The victory was decided in an exciting sprint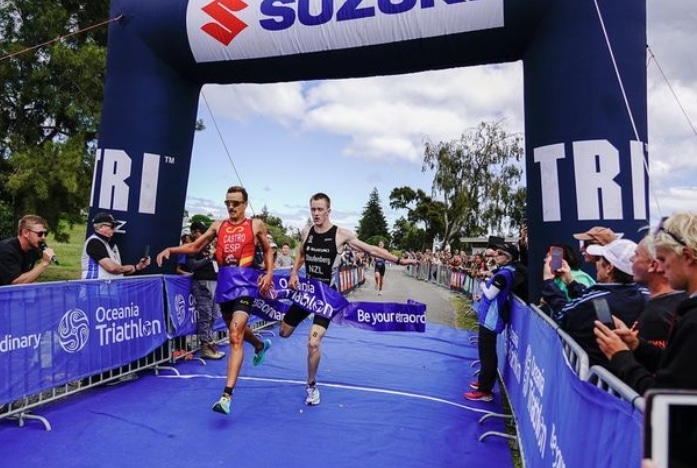 This morning it has been disputed in New Zealand lTriathlon Oceania Cup in the city of Taupo with an exciting finale.
The victory was decided in an exciting sprint where the Spanish David Castro He was the first beating the New Zealander Janus Staufenberg, both finished the test in 54:00.
The Australian Luke Willian he was third with a time of 54 minutes and 4 seconds.
triathlete Nicole Van Der Kaay from New Zealand has won the women's elite event with a time of 1 hour, 0 minutes and 17 seconds
The New Zealand Ainsley thorpe came in second, just 2 seconds off the leader, and the American Gwen Jorgensen who has returned to the triathlon with a great third place.
The Spanish Sara Guerrero She has had an outstanding performance in the competition, finishing in sixth place with a time of 1 hour, 1 minute and 41 seconds, 1 minute and 36 seconds behind the winner.
Men's 10 Top
| | | |
| --- | --- | --- |
| Job title | Name | Time |
| 1 | David Castro Fajardo | 00:54:00 |
| 2 | Janus Staufenberg | 00:54:00 |
| 3 | Luke Willian | 00:54:04 |
| 4 | Kyle Smith | 00:54:13 |
| 5 | Tayler Reid | 00:54:27 |
| 6 | Dylan McCullough | 00:54:28 |
| 7 | Callum McClusky | 00:54:48 |
| 8 | Saxon morgan | 00:54:51 |
| 9 | Trent thorpe | 00:54:56 |
| 10 | James Corbett | 00:55:04 |
Top 10 female
| | | |
| --- | --- | --- |
| Pos | Name and surname | Time |
| 1 | Nicole Van Der Kaay | 01:00:17 |
| 2 | Ainsley thorpe | 01:00:19 |
| 3 | Gwen Jorgensen | 01:00:49 |
| 4 | Ellie Hoitink | 01:01:09 |
| 5 | Olivia Thornbury | 01:01:21 |
| 6 | Sara Guerrero Manso | 01:01:41 |
| 7 | charlotte derbyshire | 01:01:47 |
| 8 | aleisha wesley | 01:02:06 |
| 9 | Emma Jeffcoat | 01:02:27 |
| 10 | hannah knighton | 01:02:31 |