The Triarmada's statements after the Games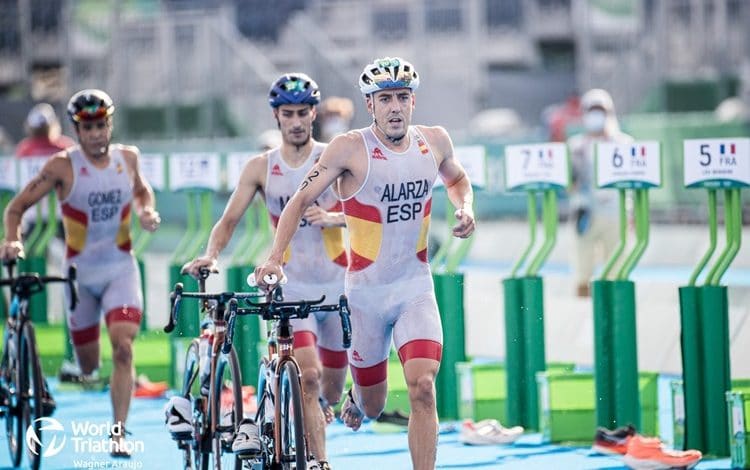 This morning the men's test of the 2020 Olympic Games Triathlon was held in Tokyo where Spain was represented by Javier Gómez Noya, Mario Mola y Fernando Alarza
In the competition that he won Kristian Blummenfelt, Mario Mola was the best Spanish finishing in 10th position and obtaining the Olympic diploma
Fernando Alarza was 12th and Javier Gómez Noya who participated in his third Games was 25th
After their performance they have published their impressions of the race
Javier Gómez Noya
"As you can imagine, I am not at all happy with my result at the Tokyo Olympics today.
After all the hard training and preparations, the body just didn't respond. It wasn't the heat (it wasn't that hot after all), I just felt flat, I had nothing to give, but I'm not going to bore you with reasons and justifications.
In elite sport, results are what matter and today I was not good enough.
I would have liked to do better in what was probably my last ITU race, but that's life!
I have competed at ITU at the highest level for about 20 years, competing against different generations of incredible athletes, I have had incredible experiences and I am honored to be the athlete with the most victories. It is definitely much more than I could have dreamed of! "
Fernando Alarza
«After the storm comes the calm…
It's been a few hours since the race and it's time to reflect.
12th in the Olympics, I am happy because I feel privileged to be here, but I am not fooling anyone if I say that I came for more. I believe that the Olympic Games deserve to come with the greatest possible ambition.
However, when you give everything you have and leave until your last breath you should be satisfied with your work, and I am.
The team knows that a better result was expected, but I assure you that Mario, Javi and I have left everything to try to represent the country in the best possible way with what we had today.
The rivals have been better, nothing more, I think the most deserving have won and today's race was very fair.
In spite of everything I am very happy and this experience is amazing.
It will be difficult to bring this entire team together again at the Olympic Games, but I feel very proud and fortunate to have been part of this historic Spanish team during this decade.
Time to rest, recover and go out for all on Saturday in the relay, let's go team!
Thank you all for the great love and support that you have given us, we are really feeling very supported by everyone, thank you from the heart. "
Mario Mola
«We prepared to the best of our ability and did our best to keep our options.
Although it was not the dream result, we can only applaud those who were the best and remain with the satisfaction of having fought until crossing the finish line«