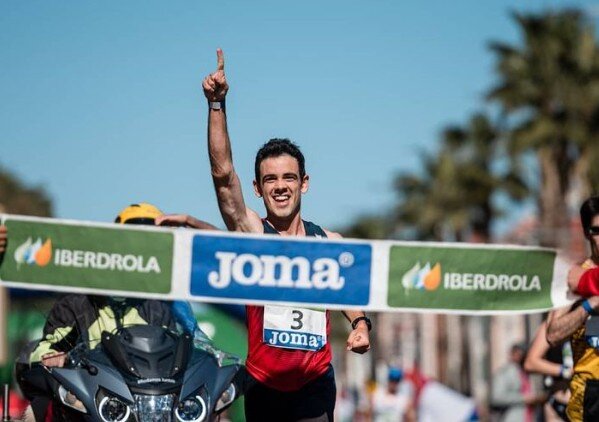 Diego Garcia Carrera, who two weeks ago renewed his confidence for the next two years with Skechers, has become this weekend in Absolute champion of Spain of 20 km march.
To achieve this, it has used the carbon fiber plate model Skechers Speed ​​Elite Hyper getting a spectacular a 1:19:40 time.
With this time, Diego Atleta Sckechers has not only achieved the olympic minimumbut has beaten the rabsolute record of the competition.
2 more years with Skechers
Just two weeks ago, Diego García Carrera decided to cling to the shoes that have accompanied him in his spectacular sports evolution and renew for two more years his relationship with Skechers, the firm in charge of his sports footwear since 2013, when he was still a young promise of this discipline.
This past weekend, the young Madrid walker has shown the wisdom of this decision by becoming absolute champion of Spain of 20 km marches with the high competition model Skechers Go Run Speed ​​Elite Hyper, endowed with carbon fiber plate and ultra light weight.
See this post on Instagram
The goal to get a medal in Tokyo
The renewed agreement with the brand offers Diego the opportunity to get a medal in the next Olympic Games of Tokyo 2020, which will be held next summer -between July 23 and August 8, 2021-.
He will try to pick up the baton from the greats of the Spanish march and the world has already begun to bear fruit: with a time of 1:19:40.
The young Madrid walker has not only managed to win one of the highest level Spanish championships in recent years and win the Olympic minimum, but he has also broken the competition record, which until now was shared by athletes Paquillo Fernández y Miguel Ángel Lopez with a time of 1: 19: 52.
Diego at 25 has achieved several Recordmarks
García Carrera, 25, holds several national records in his record as the Spain U23 record of 20 km marcha, second best Spanish brand of all time in absolute category or the absolute Spanish record of 3.000 meters march on an indoor track, achieved in 2019.
With the record of Spain adds a new milestone to his career, which are added to asEuropean championship of 20 km march and the title of winner of the World Marching Challenge.
Price drop on Amazon
374,00 €
13 New From 365,00 €

Amazon.com
459,98 €
2 New From 459,98 €
6 Used From 409,65 €

Amazon.com
More discounts