Where to watch the Spanish Olympic Triathlon Championship live?
Preview, schedules and how to follow it live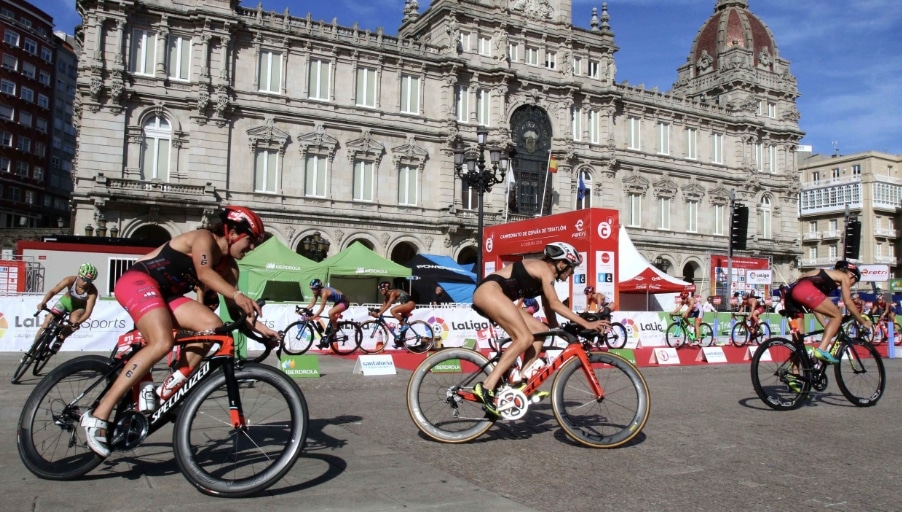 This Saturday, the eyes of the national triathlon community will be on A Coruña, where the Spanish Triathlon Championship in Olympic distance.
This event will have a high level since there will be several international triathletes in the start list.
The Favorites
Among the competitors, Sara Perez part as the great favourite.
The Inverse triathlete arrives at the event in good shape after the victory in Zarautz.
However, it will not be alone in the fight for gold since Maria Casals It sure makes it difficult.
Other athletes to watch include Natalia Castro, Iratxe Arenal, Paula Lizón, Paula del Pozo, Maite Jiménez-Orta, Sofía Aguayo and Claudia Pérez.
Favorites
In the male category, David Castro is the great favourite. Known as 'El Torero', Castro will look to add another title to his impressive list of triumphs.
Antonio Serrat I'm sure he'll try to make it difficult for you. Despite his recent 23rd place finish at the last WTCS, Serrat has home-field advantage.
Other athletes to follow will be Antonio Benito, Jordi García, Kevin Tarek, Iván Gil, Carlos Oliver, Esteban Basanta Ander Noain and Ángel Sánchez.
How and Where to See
The tests can be followed live through RTVE Play, starting with the women's category at 18:15, followed by the men's category at 20:20.
A Coruña: The Host City
A Coruña, the host city of the championship is a jewel on the northwest coast of Spain.
Known for its iconic Roman lighthouse, the Tower of Hercules, the city offers a mix of history, culture, and natural beauty.
Visitors can enjoy panoramic views of the Atlantic Ocean, explore the charming Old City, or taste the delicious Galician cuisine.