Domenico Passuello and Holly Lawrence win the Elche Arenales Triathlon 113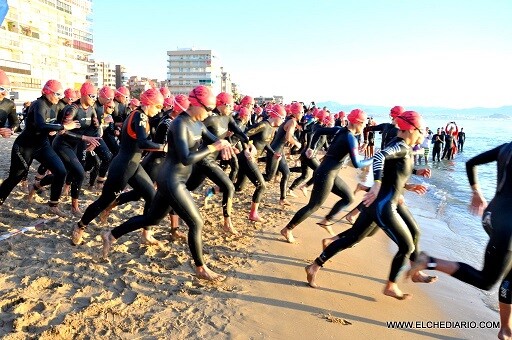 A total of 1.289 registered triathletes participated this morning in the IX Elche Arenales Triathlon 113, which has been held in the town of Elche Arenales del Sol The race was held over the distances of 1,9 kilometers of swimming, 90 kilometers of cycling and 21,1 kilometers of running.
Domenico Passuello, of the A300W Elche TC has been the winner of the triathlon with a total time of 03: 40: 07. The second position was for the SR2 Triathlon, Daniel Múgica with a time of 03: 43: 02, while Richard Calle has been in third position entering the finish line with a chronometer of 03: 43: 06.
Passuello has based his victory thanks to the great time achieved in the distance of cycling, modality of which he is a great specialist. In fact, he left the swim section in the 31 position, and finished the race distance in a discreet 14 position.
With regard to the female category, the victory has been for Holly Lawrence with a time of 04:10:30, followed by Gurutze Frades (04: 16: 38) and Eleanor Haresing (04: 21: 21).
Source: elchediario.com