Triathlon News
The 20 British Alex Yee wins the Cape Town World Cup
The young triathlete has achieved his first victory in the elite category. Vicente Hernández finishes ninth in the test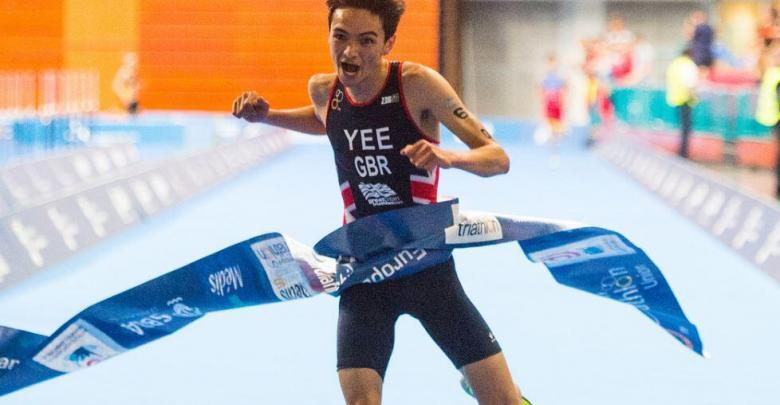 After the spectacular comeback of the Japanese Ali Ueda and the great performance of the Spanish Triarmada with sixth place in Mirian Casillas and the eighth of Sara Pérez, it was the turn of the men's event, where the last minute absence of the South African stood out Richard Murray , winner of the last two editions, for stomach problems. The competition had many WTS triathletes, ensured a very close race. As for the Spanish they took the starting line Vicente Hernández, Roberto Sánchez y Alberto e Ignacio González.
The test started with a little delay, due to a blackout in the city, it started with the 750 meter swim where Richard Varga was the fastest followed by Igor Polyanskiy and Henri Schoeman. In 18 seconds the chasing group led by Delian Stateff left. Alberto González was the first Spaniard to come out 31 seconds behind the head of the race.
Exit of the test
Start of Elite Mens Race:

Triathlon World Cup Cape Town. @Triathlon_CT #TriathlonCT pic.twitter.com/MxTMevx0Oz

- Ayanda Frances Felem (@AyandaFelemZA) 10 of February 2019
In the first round of the cycling segment the chasing group was cutting distances over the leading trio, to finally unify in the passage through the second round forming a group of 9 units with Schoeman, the Polyanskiy brothers or Richar Varga among others. Behind were two groups, one at 15 seconds where Vicente Hernández and Alberto González were and another at 36 seconds with Ignacio González and Roberto Sánchez.
Finally, a very stretched 42-unit platoon arrived with Schoeman in the lead, where all the Spaniards were, with nothing decided to face the last 5 kilometers of the foot race where everything would be decided.
In the passage through the first lap the British Alex Yee was the first to pass with 12 seconds of advantage over Schoeman, Silva and Nieschlag. Vicente Hernández passed ninth 10 seconds from the podium positions.
Finally the british Alex Yee has achieved victory in the test with a time of 0: 52: 04 followed by the North American Tony Smoragiewicz (00:52:20) and by the Portuguese Joao Silva (00: 52: 20) occupying the third position.
Video entry goal
Winner of 2018 Elite Mens Race Yee from Great Britain.

Triathlon World Cup Cape Town. @Triathlon_CT #TriathlonCT pic.twitter.com/KqFvnXY3zQ

- Ayanda Frances Felem (@AyandaFelemZA) 10 of February 2019
Vicente Hernández finished in a great ninth position, while Roberto Sánchez it was 15th, Alberto González 19º e Ignacio González 39 º
Alex Yee, is a promise of the British triathlon, where in addition to having achieved this victory, the first in a world cup had already been Junior Duathlon World Champion in Avilés in 2016 and Junior Duathlon European Champion in Soria.
Check these top 10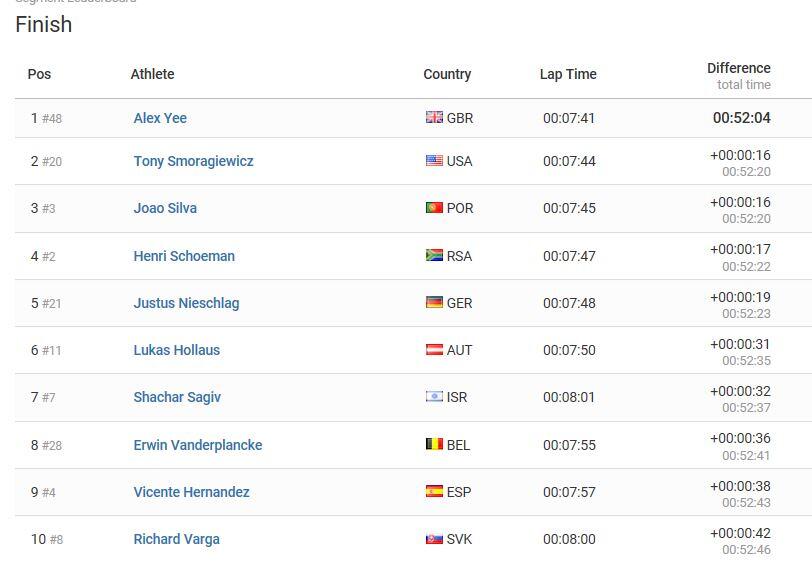 Photo: britishtriathlon.org