EXPOBIKE, resounding success in his debut. News triathlon is present at the fair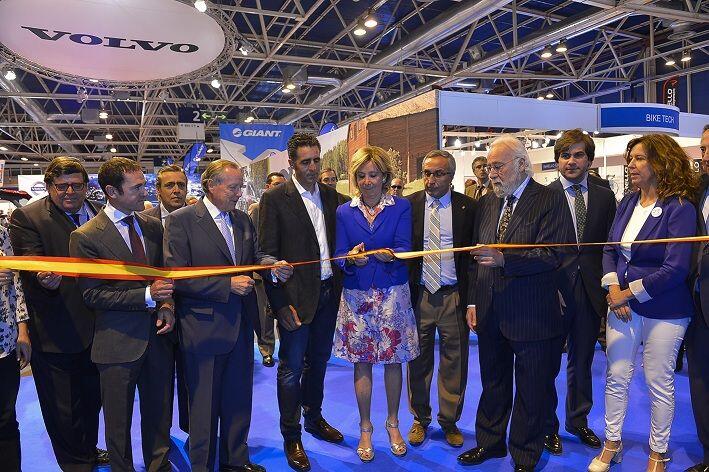 EXPOBIKE e presemto yesterday with a great success of assistance and receiving multiple praises from the representatives of the industry and the professionals attending this first call directed to the bicycle and triathlon.
EXPOBIKE has convinced the professionals in their debut. By the hand of Miguel Indurain, the President of the Community of Madrid, Esperanza Aguirre, the President of the COE, Alejandro Blanco, the President of the RFMC, Javier Fernández Alba, the President of Volvo Car Spain, Germán López Madrid, the President of Cofidis, Juan Sitges, has been the official opening of EXPOBIKE, the first indoor bicycle and triathlon fair held in Spain and born with the vocation of becoming a benchmark internationally.
Among the attending personalities, the General Deputy Director of intervention and road policies of the DGT, Mónica Colás, the General Director of the Road Safety Institute of the MAPFRE Foundation, Julio Laria del Vals, the Head of Section of Modeling and Road Design of the Department of approach of the Madrid City Council, Joaquín Jiménez and top authorities of IFEMA.
TRIATLON NEWS IS PRESENT IN EXPOBIKE
Triathlon news is present at the fair, in addition to sponsoring triathlon talks "How to start the youngest in the world of Triathlon" with Maribel Blanco , "Women and Sport" with Alberto García Bataller, and "Olympic Experience" with Juan Rodríguez, National Coach of the Spanish Triathlon Federation and the Olympic triathletes Jose Miguel Pérez y Marina Damlaimcourt,