Extreme Man Narbonne, get your number with an 28% discount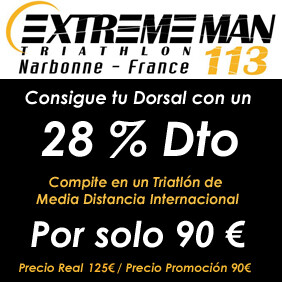 The best LONG DISTANCE triathletes will meet next September Extreme Man Narbone (France), Victor del Corral, Marcel Zamora, Clemente Alonso and Xavi Llobet among others, they have already confirmed their attendance.
Do you also want to participate in this great international event?
Narbone is a French town located near the border with Spain and with a great love for triathlon.
The next September 02 will take place this great event that will run on distance "113" with 1,9 km of swimming, 90 km in the cycling segment to end with 21.1 km of running where in addition to attracting the biggest of the international triathlon, hundreds of popular triathletes will come to enjoy this great day in a town totally devoted to this sport.
Triathlon News offers you the possibility of attending this event with an 28% discount on the price of the test, but we have a number l imitated numbers with this promotion
Do you want to know how to get yours?
https://www.tienda.triatlonnoticias.es
More information of the test: www.extreme-man.com
Date: 09.09.2012