The Ironman 2013 season ends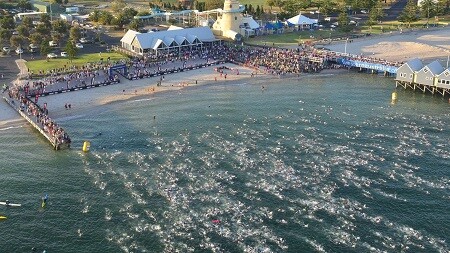 End of season, this December 8 Sunday has been played in Australia the last appointment of the 2013 of the ironman franchise, where French Jeremy Jurkiewicz and the American Elizabeth Lyles they have achieved victory in Ironman Western Australia .
Jurkiewicz with a final time of 8:08:15 completed the 3,8 km of swimming in 47:03, the 180 km of cycling in 4:29:17 and the 42 km of the marathon in 2:48:18 which served him to arrive almost 8 'ahead of Markus Thomschke almost 11 'of David Dellow.
In the female category the victory went to Elizabeth Lyles with a time of 8: 59: 43 followed by Mareen Hufe more than 6 minutes and followed in third position Lisa Marango almost 20 minutes.
TOP 5 Male
1 Jeremy Jurkiewicz (FRA) 8: 08: 15
2. Markus Thomschke (GER) 8:16:00
3. David Dellow (AUS) 8:19:09
4. Todd Israel (AUS) 8:22:38
5. Matty White (AUS) 8:25:28

TOP 5 Feminine
1 Elizabeth Lyles (USA) 8: 59: 43
2 Mareen Hufe (GER) 9: 07: 59
3 Lisa Marangon (AUS) 9: 19: 28
4 Michelle Bremer (NZL) 9: 25: 57
5 Melanie Burke (NZL) 9: 27: 07