Triathlon News
Frederick Van Lierde wins the Ironman of Hawaii, with a magnificent Ivan Raña in 6º position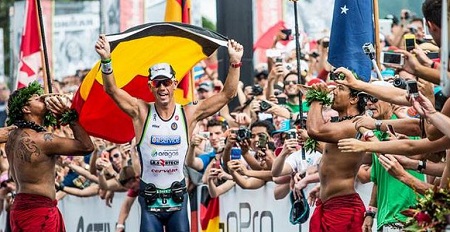 Iván Raña managed to overcome in the race on foot until the 6º final place
The Belgian Frederick Van Lierde has won the 35º edition of the Ironman World Championship getting the eighth or fastest time in the history of Kona. Mirinda Carfrae was impounded in female category
Van lierde of 34 years of age has completed the test in a total time of 8: 12: 29. Freredic who came out of the water in the 25ª position, managed to go up to the fourth position at the end of the 180 km of bike. Already in race on foot he gave a whole recital setting a chrono in the 02 marathon: 51: 18 that served him to go up to the first position in the 30 km that he did not leave until the end.
The Australian Luke McKenzie, leader of the cycling sector and first during almost all the marathon managed to maintain the second final position with a time of 8: 15: 19.
In third place I enter Sebastian Kienle, that term the cyclist sector in third position, managed to keep the square until the end marking in goal a time of 8: 19: 24.
Ivan Raña starred the comeback of the day, finishing the bike in 18º position managed to hunt almost everyone who had ahead in the race on foot, marking a time of 02: 47: 54 to complete the 42 km that served to lift the 6º final position with a time of 08: 23: 43
Eneko Llanos favorite for the final victory, finished in 11ª position with a goal time of 08: 32: 04. Eneko, who finished on the eleventh bike, managed to reach the 8º place in the race, but due to some problems with the flat he was losing positions until finishing in eleventh position.
In the female category the Australian Mirinda Carfrae has managed to proclaim the Ironman 2013 World Champion with a goal time of 8: 52: 15, followed by Rachel Joyce with 8: 57: 28 and in third position Liz Blatchford with 09: 03: 35.
2013 Ironman World Championships
Results
Top 10 Men
1 Frederik Van Lierde (BEL) 8: 12: 29
2 Luke McKenzie (AUS) 8: 15: 19
3 Sebastian Kienle (GER) 8: 19: 24
4 James Cunnama (RSA) 8: 21: 46
5. Tim O'Donnell (USA) 8: 22: 25
6 Ivan Rana (ESP) 8: 23: 43
7 Tyler Butterfield (BMU) 8: 24: 09
8 Bart Aernouts (BEL) 8: 25: 38
9 Timo Bracht (GER) 8: 26: 32
10 Faris Al-Sultan (GER) 8: 31: 13
23 Craig Alexander (AUS) 8: 43: 59
42 Pete Jacobs (AUS) 9: 06: 39
Top 10 Women
1 Mirinda Carfrae (AUS) 8: 52: 14
2 Rachel Joyce (GBR) 8: 57: 28
3 Liz Blatchford (GBR) 9: 03: 35
4 Yvonne Van Vlerken (NED) 9: 04: 34
5 Caroline Steffen (SWI) 9: 09: 09
6 Caitlin Snow (USA) 9: 10: 12
7 Meredith Kessler (USA) 9: 10: 19
8 Michelle Vesterby (DEN) 9: 11: 13
9 Gina Crawford (NZL) 9: 14: 47
10 Linsey Corbin (USA) 9: 17: 22
12: Leanda Cave (GBR) 9: 25: 07
Results: http://tracker.ironman.com/sportstatsv2/ironman/index.xhtml?raceid=20&status=results&unit=1
Photo: ironman.com