Gómez Noya sprints towards London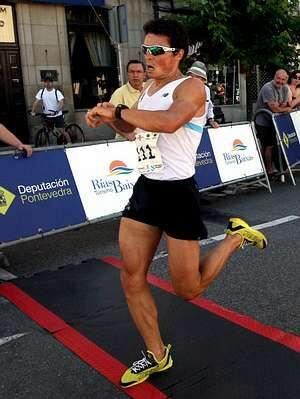 Javier Gómez Noya is in full sprint towards London. And on his way to the Olympic Games he is monopolizing titles in the Galician Championships of different modalities. If on the first day of this month of July he won the 1.500-meter swimming competition, also beating his best mark in the fifty-meter pool, on Saturday in Vilagarcía he won the five-kilometre race en route, although in In this case, the first athlete to cross the finish line was the Mexican, and also an Olympic triathlete, Crisanto Grajales, who surpassed him by just two seconds.
The Ferrolan did not beat in this case his best time ever in the distance but was not at all unsatisfied with yesterday's test. He attributed his brand (14 min 17 s) to the wind, which bothered the athletes during part of the route, and the work load that he has been doing in recent weeks. "It was good training," says the triathlete.
Gómez Noya had the wonderful collaboration of Víctor Riobó, who acted as a hare during the first half of the event. The two Galicians and the Mexican distanced themselves and crossed the finish line for the first time setting a time of 7 min and 5 seconds for the first two thousand five hundred meters. From there, the race remained in a one-on-one between the man from Ferrol and Grajales - who is preparing his participation in the Games in Galicia - which was only decided in a final sprint that was won by the one from Veracruz.
Last stop: Hamburg
Yesterday's race in Vilagarcía is the penultimate competition that Javier Gómez Noya will face on his way to London. The calendar will close on Saturday in Hamburg, where a qualifying triathlon for the World Cup will be held, but which will be done over half the Olympic distance as it is very close to the London event.
"From there, there will be two and a half weeks left to get ready, to pick up the spark to arrive healthy and fresh at the Games," explains the athlete. The job is, therefore, practically done and it seems to be well done, as endorsed by the brilliant victory achieved just a few days ago in the Paris triathlon.
The triathlete himself, after all, the one who knows best how his body works, endorsed it yesterday in Vilagarcía, on the bicycle where he went to shoot as soon as the Galician Athletics Championship finished: «Right now I am a a little tired from so much training load, but I think I'm very strong. The feelings I have are very positive », he concluded.
Source: lavozdegalicia.es