Héctor Catalá will do a long distance indoor triathlon to raise funds against the Covid-19.
He will do 1.900m of swimming, 90km by bicycle and 21km without leaving home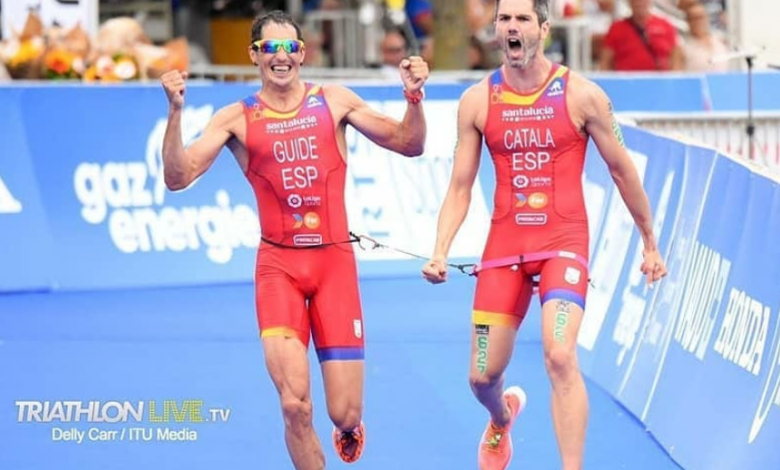 The Valencian paratriathlete Héctor Catalá joins the fight against the Covid-19 with 1.900m of swimming, 90km by bicycle and 21km running in a long distance triathlon and all without leaving home.
In August I should have been in Tokyo 2020
Next August, the Valencian paratriathlete Héctor Catalá would have to be in Tokyo together with his guide, the Galician Gustavo Rodríguez, to compete in the Paralympic Games.
This dream has had to be postponed until next 2021 due to the Covid-19 coronavirus pandemic.
The current paratriathlon world champion, has determined to take action and after weeks of pondering how to help in this crisis, he has decided to do it as best he knows, practicing his sport
The appointment, April 25
The appointment on Saturday April 25 and from 9:30 am the Serra will get into his "pool" to swim the 1,900m marked, use his roller to complete 90km and finally run on the belt the 21km that complete a long distance triathlon
It will be an indoor triathlon without leaving his home, with his squire of battles, Gustavo Rodríguez guiding him over 1.000km,
The goal of raising funds
The objective will be to raise funds for the fight against Covid-19 in the towns of Serra, his hometown and Bétera, his sports town, as well as for research to obtain a vaccine.
Where to see it?
The «event» can be followed live through the Youtube channel (www.youtube.com/hectortriathlon) and on Facebook (www.facebook.com/hectortriathlon) and will also have the collaboration of different athletes who will join live supporting the Valencian.
An account number will be created where the different companies and individuals will be able to make their contributions and will be able to participate in raffles of material contributed by companies.