Club La Santa opens registrations for IRONMAN Lanzarote 2022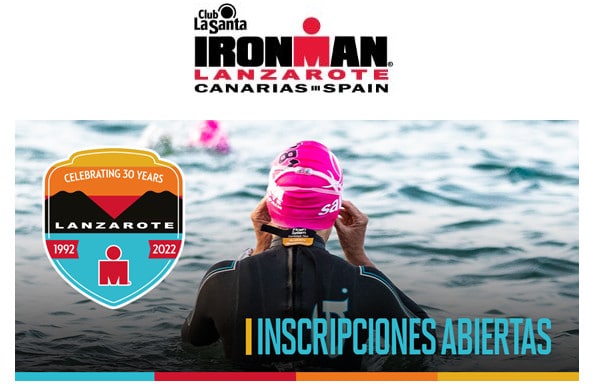 With the defined date of IRONMAN Lanzarote 2022 and the opening of registrations for all events, the new calendar of Club Santa it is already a reality.
Next year will bring a race reorganization that will offer athletes new challenges to optimize their experience and plan the season.
El May 21th 2022Triathletes from all over the world will participate in the IRONMAN Lanzarote, which celebrates its thirtieth anniversary.
Precisely the inscriptions have been opened to compete in the queen test of those organized by Club La Santa, and a pioneer in the European continent.
Volcano Triathlon and IRONMAN 70.3 Lanzarote.
The tenth edition of the IRONMAN 70.3, set for March 19, enlists participants from the past 27 July and it already has hundreds of triathletes who will compete to win and to get one of the qualifying places in different categories for the World Championship.
But the news does not end here. The mythical test Volcano Triathlon, dean in Spain and whose last edition took place last Saturday, will open registrations next November 16th ahead of the next edition, which will be held on 26 February.
In this way, three tough triathlon events such as the Volcano Triathlon, the IRONMAN 70.3 and the IRONMAN Lanzarote will be concentrated in just four months, from February to May. A small revolution that reshapes the calendar in a significant way
Club La Santa 4 Stage Mountain Bike Race Lanzarote.
As the main course and to start the year in style, the twentieth anniversary of the only S1 event of the International Cycling Union (UCI) that takes place in the Canary Islands, the Club La Santa 4 Stage Mountain Bike Race Lanzarote, will take place.
Four days of competition, from Saturday 22 to Tuesday 25 January, in which professional and amateur cyclists will enjoy a race that is a great challenge for all its participants, since 90% of its route is off road.
Club La Santa continues working to offer the best and safest experience to all athletes, with an always innovative approach and in coordination with public authorities. All this continues to consolidate Lanzarote as a destination and as a sports reference at an international level.
Those interested who want to register in any of the tests can do so through the following links:
Club La Santa Calendar
This is the calendar with the links for the registration of the tests organized by the CLub La Santa