The Age Group podiums at IRONMAN Kona 2023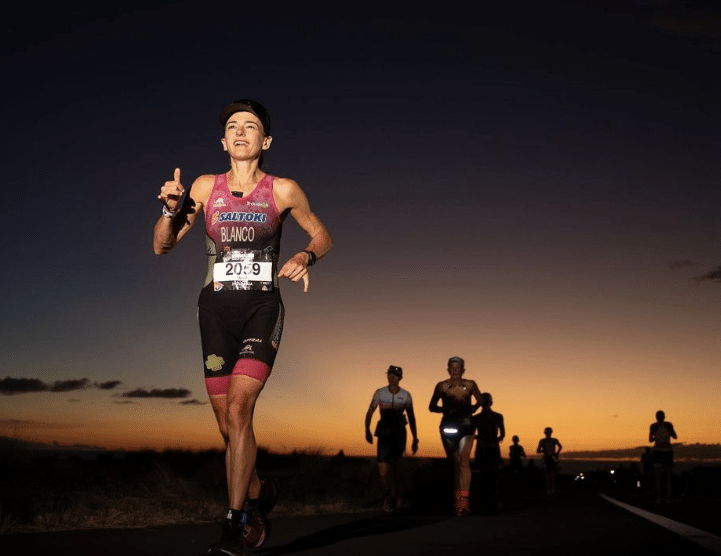 El IRONMAN World Championship Kona 2023 has been a spectacular event that has seen triathletes of all ages and abilities take on the toughest test in our sport.
In this article we compile the winners of each age group.
The French Maelle Deruaz was the fastest and took the overall age group title with a time of 9:14:12.
You can also check the result of the Spanish in the test
Podiums by Age Group
at IRONMAN Hawaii 2023
F18-24
| | | |
| --- | --- | --- |
| Position | Athlete | Time |
| 1 | Ava Warfel | 9:47:27 |
| 2 | Sarah Karollus | 10:04:11 |
| 3 | Aubrie Yarbrough | 10:41:46 |
F25-29
| | | |
| --- | --- | --- |
| Position | Athlete | Time |
| 1 | Maelle Deruaz | 9:14:12 |
| 2 | michelle krebs | 9:25:10 |
| 3 | Lea Zoe Riccoboni | 9:36:08 |
F30-34
| | | |
| --- | --- | --- |
| Position | Athlete | Time |
| 1 | Barbora Besperat | 9:19:52 |
| 2 | Svetlana Ushakova | 9:34:51 |
| 3 | Laura Kesler | 9:40:04 |
F35-39
| | | |
| --- | --- | --- |
| Position | Athlete | Time |
| 1 | Vanessa Murray | 9:34:27 |
| 2 | Elyse Gallegos | 9:41:15 |
| 3 | Ana Augusta Soares | 9:41:56 |
F40-44
| | | |
| --- | --- | --- |
| Position | Athlete | Time |
| 1 | Jana Richtrova | 9:38:51 |
| 2 | Helena Kotopulu | 9:54:07 |
| 3 | Meghan Fillnow | 9:55:40 |
F45-49
| | | |
| --- | --- | --- |
| Position | Athlete | Time |
| 1 | Jessica Jones Lasley | 9:57:28 |
| 2 | Fiona Whelan | 10:07:35 |
| 3 | Katharina Grolz | 10:17:04 |
F50-54
| | | |
| --- | --- | --- |
| Position | Athlete | Time |
| 1 | Sandra Daenzer | 10:19:29 |
| 2 | Natasja Barclay | 10:29:15 |
| 3 | Edina Jung | 10:30:05 |
F55-59
| | | |
| --- | --- | --- |
| Position | Athlete | Time |
| 1 | Michelle Enslin | 10:40:06 |
| 2 | Karen Smith | 10:50:10 |
| 3 | Marion Hebding | 10:52:18 |
F60-64
| | | |
| --- | --- | --- |
| Position | Athlete | Time |
| 1 | Donna Kay-Ness | 10:57:10 |
| 2 | Linda Hurley | 11:12:17 |
| 3 | Kaisa Jakobsen | 11:14:05 |
F65-69
| | | |
| --- | --- | --- |
| Position | Athlete | Time |
| 1 | Judy Daggett | 12:22:53 |
| 2 | Barbara Tettenborn | 13:26:25 |
| 3 | Stephanie Hevenor | 13:36:37 |
F70-74
| | | |
| --- | --- | --- |
| Position | Athlete | Time |
| 1 | Missy Lestrange | 14:08:00 |
| 2 | Patricia Rosen | 15:01:28 |
| 3 | Viola Burke | 16:47:25 |