Iván Tejero and Estefanía Gómez win the Triathlon in Guadalajara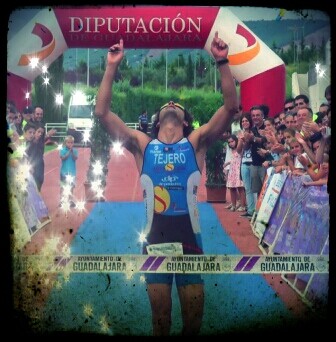 Iván Tejero has won the XXVII edition of the Guadalajara Triathlon, with a time of 4 hours, 6 minutes and 45 seconds. The man from Alava, from the Aquaslava club, invested 23 minutes in swimming the 1.900 meters and finished second in that modality, while he was third in the race, but stood out on the bicycle, where he came first with a time of 2 hours, 25 minutes and 3 seconds.
Tejero was the main favorite to win this event, since he was the winner of the Guadalajara Triathlon in 2011, was fourth in 2010, third in 2004 and second in 2005, and also adds this victory to the one obtained this year in the Triathlon of Basin. In second and third place were the Portuguese triathletes Sergio Marqués, from the Carity Multisport club, and Pedro Gomes, from Zoot Sports, respectively.
In the women's category, the winner was the Basque Estefanía Gómez, from the Saltoki club, followed by the athletes Vanessa Pereira, from Portugal, and Ana Casares.
The first qualified Alcarrian was Alberto Codinach, member of the Guadalajara Triathlon Club, who has invested in the race a time of 4 hours, 19 minutes and 55 seconds.
This triathlete has obtained the "Alvaro Quintero Memorial" award, in homage to the ill-fated triathlete from Alcarria, as well as the Guadalajara female Yolanda Santos, fifth in the absolute category, for being the first local participants to cross the finish line.
In the XXVII edition of the Guadalajara Triathlon, organized by the Guadalajara Triathlon Club and sponsored by the City Council of the capital of Alcarria and by the Provincial Council, 342 athletes participated.
elcorreo.com