Javier Gómez Noya "King of Kings"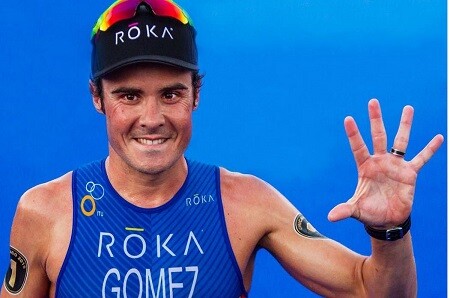 Javier Gómez Noya yesterday made history in world sport by getting his tenth world title in triathlon
On Monday 24 of July of 1995 the newspaper Marca opened on the front page with the 5ª consecutive victory of Miguel Induráin in the Tour de France titled the feat as "King of Kings". Vente years later another Spaniard, the triathlete Javier Gómez Noya He entered sports history when proclaimed by 5ª time world champion, absolute record of world titles of a triathlete.
Throughout the years many Spaniards have been the ones that have stood out as being among the best in their sport, we will only mention some as Rafa Nadal (tennis), Miguel Indurain (cycling) or Angel Nieto (motorcycling). They are a benchmark for sport in Spain, but they are not the best in their sport (for titles) as they are surpassed by Roger Federer, Eddy Merck o Giancomo Agostini.
On the other hand there are team sports where also in Spain there have been and there are great champions like Paco Gento, Xavi Hernandez, Iker Casillas (football), Manel Estiarte, Jesús Rollán (water polo), Pau Gasol (basketball) or Santi Freixa (Grass Hockey) among others.
We do not want to forget about women, where they stand out Teresa Zabell (candle), Carolína Marín (Badminton), Arancha Sánchez Vicario (tennis), Carme Valero (athletics), etc ...
The 5º title of Noya puts you one step above all the aforementioned as Javi has earned himself the "best" in his sport. In addition it is necessary to add that Javi in ​​total sum 10 world, to the 5 ITU it is necessary to add 1 sub 23, 2 of IM 5150, 1 of X-Terra and 1 of IM 70.3
That is to say that Noya enters on her own merits in the select group of best Spanish athletes in history, who are also the best in their sport: Toni Bou (Trial) 18 world, Laia Sanz (Trial and Enduro) 16 world, Sheila Herrero (skating speed) 15 world, Gisela Pulido (Kitesurf) 9 world and Joan Llaneras (track cycling) 7 world + 2 Olympic gold.
Juan José Martí Navío @jjnavio
Photo: Fb Javier Gómez Noya
Note: It has not been possible to contrast the 100% if Joan Llaneras is the cyclist with more track titles in background events (score and American) The rest of the athletes (Bou, Sanz, Herrero and Pulido) are contrasted data.