Javier Gómez Noya and Saleta Castro among the most influential athletes on Instagram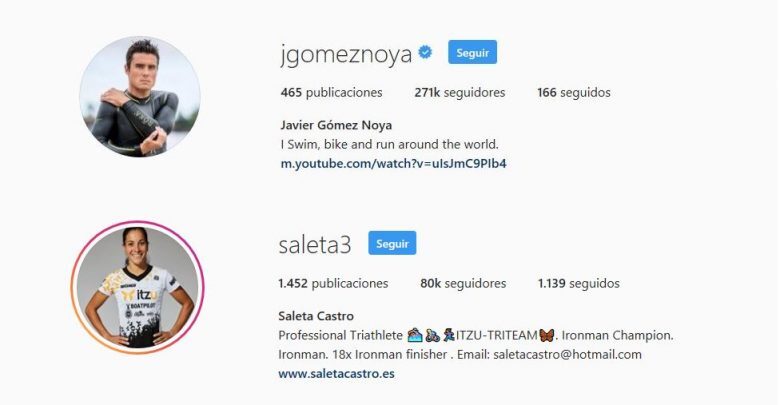 To make the Ranking has selected the most influential athletes who have more than 75.000 followers on Instagram
In the next post we show you a list with the most influential Spanish runners on Instagram that you have collected Thirteenbits. A ranking in which tothey look like runners with more than 75.000 followers, whose activity in this platform focuses on talking about running and everything that surrounds this sport.
This Spanish athlete of just 30 years is a lover of mountain racing. His audience on Instagram goes up to the 645.600 followers, from half the world. Among other international exploits, in 2017 he ascended Everest twice in less than a week. He did it without supplementary oxygen or the use of fixed ropes.
His profile is full of videos, galleries of images and loose photographs of his sporting achievements in the mountains, especially races (he also practices other sports).
Running, swimming and cycling are the passions of this Spanish triathlete, five times world champion. Some 270.000 users follow the track on Instagram.
A social network where he relates the sports activities in which he participates all over the world. His profile also has an international character and usually employs both English and Spanish.
TV and radio presenter, Valentí Sanjuan is an amateur athlete who dominates social networks to perfection. In fact, he runs an agency / producer specialized in generating content for national and international brands.
In Instagram 277.600 followers follow. One of the keys to its success in this platform is its ability to connect with the audience through different techniques such as the daily employment of Stories.
This athlete from Madrid is one of the great Spanish long distance runners in history. Gold Medal in the 10.000 meters of the Munich European Championship 2002, Chema Martínez has exploited its media profile and sponsors different sports companies. His closeness and naturalness place him as one of the most influential runners on Instagram, where 135.000 has followers.
Especially known for his television shows Maratón Man and Running Show, this Spanish comic brings together 106.000 people on Instagram.
A platform where he comments, with a fresh and casual tone, the races, events and activities in which he participates. His presence on the small screen allows him to transmit his passion for this sport traveling all over the world.
Saleta Castro (@saleta3).
Professional triathlete, this young gal from 30 years broadcasts photos and videos through Instagram, where 79.800 has followers.
All his profile in this social network revolves around sports. Saleta usually comments on all his training and the tests in which he participates. In this sense, it is also common to use resources such as Stories to share content.
Athlete of FC Barcelona, ​​this athlete of just 22 years also sneaks into the list. And is that his 77.700 followers on Instagram also place it in the ranking of the most influential runners.
Ingrid uses this platform to share her workouts, sports events in which she participates or the diet that follows. She is one of the active athletes who most takes care of her presence in the networks.
Who would you add to the list?