Jesús Gomar and Ainhoa ​​Murua Spanish Triathlon Champions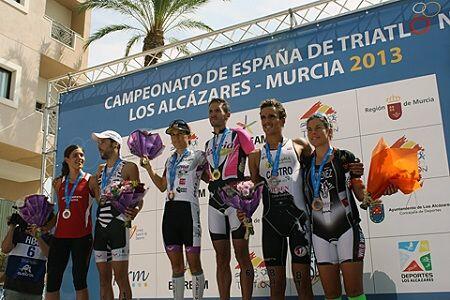 Jesús Gomar and Ainhoa ​​Murua have been proclaimed Champions of Spain of Olympic triathlon
Jesús Gomar, from Lugo Fluvia, and Ainhoa ​​Murua, of Elkartea Zarau, were proclaimed yesterday Champions of Spain Olympic triathlon in the triathlon race that was played over the weekend in the town of Los Alcázares, Murcia.
Gomar It was the fastest in a circuit consisting of 1,5 kilometers by swimming, 40 kilometers by bicycle and 10 kilometers by swimming. with a final time of 1: 50: 46, followed by Anton Ruanova for only 27 seconds and for the sub-23 David Castro, which completed the podium in the elite category with a time of 01:15:25.
In the female category., The favorite, Ainhoa ​​Murua, despite giving up a little time in the swimming and cycling tests, he achieved the final victory with a time of 2:05:49 followed by Ricarda Lisk to 37 seconds, while the sub-23 Carolina Routier He climbed to the third step of the podium of absolute test.
Ricarda Lisk did not opt ​​for Championship of Spain, it was Carolina Routier who took the Subchampionship, being the fourth to cross the finish line, Marta Jiménez (Wild Wolf Cidade de Lugo Fluvial), the women's bronze of the Championship.
In the female Sub23 category was the current runner-up of Spain, Carolina Routier, who took the gold, followed by Miriam Casillas (Ferrol Triathlon) and Anna Godoy (Wild Wolf Cidade de Lugo Fluvial).
While the bronze of the Spanish Championship, David Castro, also took the gold in Sub23, accompanied on the podium by Jordi García (Fasttriatlon Club) and Emilio Aguayor (CT CD Moncada) (silver and bronze respectively).
Classifications: http://www.triatlon.org/competiciones_13/sites/los_alcazares/resultados.asp