Jordi Montraveta one step away from the podium at the Alpe d'Huez Triathlon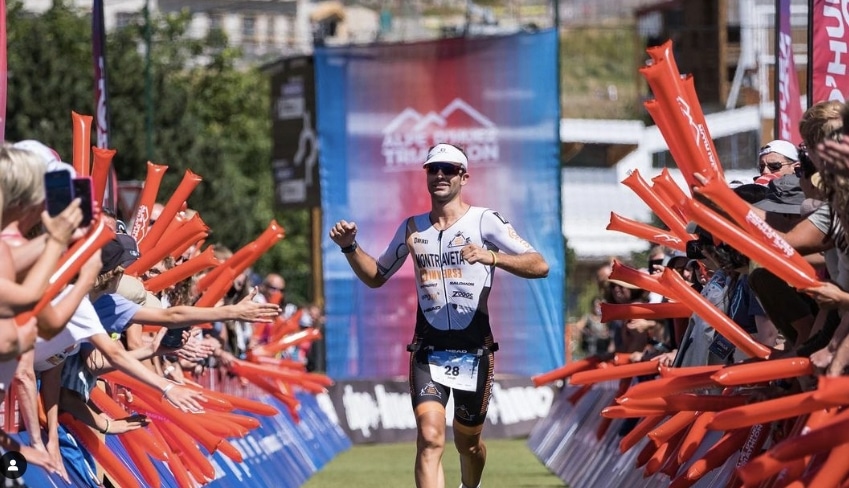 Yesterday one of the most iconic and demanding events of the world triathlon circuit took place, the Alpe d'Huez Triathlon.
A test that was disputed on the distances of 2,2 km of swimming, 118 km of cycling y 20 km of running race.
Among the participants, the Spanish Jordi Montraveta he shone with his own light, caressing the podium in a competition dominated by the level and equality of the athletes.
Montraveta, who already stood out as fourth in the IRONMAN of Lanzarote, repeated the feat in Alpe d'Huez.
Montraveta had one of the best partials in the race on foot, once again demonstrating his high level and brilliant future in this type of event.
Clement Grandy takes the win
However, a very competitive podium finish and fast pace in the cycling segment prevented his entry into the top three. The Catalan finished fourth, just one minute behind third place Clément Grandy.
The competition was dominated by local triathletes, demonstrating the strength of triathlon in France.
The podium was led by Nathan Guerber, who was the strongest of the day, beating his compatriots with a margin of two minutes.
In second position finished Arnaud Guillouz, whom Guerbeur beat by 2 minutes.
Third place went to Clement Grandy, who finished 4 minutes behind Guerbeur, but managed to keep Montraveta to a minute behind.
Top 10
| Job title | Athlete | Time |
| --- | --- | --- |
| 1 | GUERBEUR Nathan | 5:48:32 |
| 2 | GUILLOUX Arnaud | 5:50:52 |
| 3 | GRANDY Clement | 5:52:14 |
| 4 | MONTRAVETA MOYA Jordi | 5:53:38 |
| 5 | VANDENDRIESSCHE Kenneth | 5:54:24 |
| 6 | VIAIN Simon | 5:55:23 |
| 7 | ENGELHARDT Adriano | 5:55:42 |
| 8 | MOODY JACK | 5:57:38 |
| 9 | Brice HACQUART | 5:59:00 |
| 10 | SOURCES ISASI Gonzalo | 6:03:41 |
The other Spanish athletes in the TOP-20
Not only Montraveta stood out in the test. Four other Spaniards managed to place themselves in the top 20.
In tenth position was Gonzalo Fuentesclosely followed by Pello Osoro in the eleventh position. Víctor Arroyo finished twelfth, and completing the Spanish honor roll, Alex Unzueta y Guillem Montiel they finished in 17th and 18th position respectively.
Alpe d'Huez Triathlon
The Alpe d'Huez Triathlon is recognized for its high difficulty, both in its swimming segment in the Alpe d'Huez lake, as well as in its cycling route that includes the ascent to the mythical Alpe d'Huez, and its foot race that takes place develops at high altitude.
This means that each result obtained here has additional value for the athletes.
Alpe d'Huez, a place with history
The Alpe d'Huez is an emblematic place in the world of sport.
Especially known for the Tour de France, this site has been the scene of the most memorable cycling competitions.
For more information about Alpe d'Huez, you can visit its Wikipedia page.