Unexpected Turn in the World Triathlon Cup Viña del Mar: Jorgensen wins after disqualifications of 4 triathletes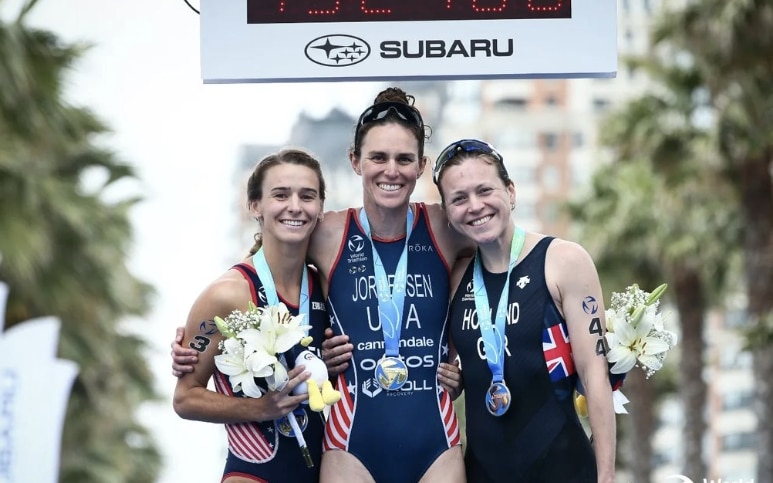 In a surprising turn, the American Gwen Jorgensen was declared the winner of the Trialton World Cup in Viña del Mar, after the disqualification of 3 athletes who entered the top 5 at the finish line.
This occurred approximately two hours after crossing the line in third place, behind fellow American Katie Zafere.
This Sunday this event was held in Chile, marking the end of the World Triathlon Cup season and could have a great impact on the formation of the US Olympic team for Paris due to Jorgensen's victory and the disqualification of Katie Zaferes.
What happened?
The suspension was due to the fact that the first four women, who at that time were in the lead and where Jorgensen was not, did not take the correct course when completing the first lap of the foot race.
Instead of running on the parallel road, they ran on the blue carpet and crossed the finish line.
All four were disqualified, which meant that Jorgensen took victory, achieving his fourth victory on the 2023 World Cup circuit (Tongyeong, Karlovy Vary and Valencia and now VIña del Mar:
Zaferes, Zimovjanova, Anna Godoy and Mathilde Gautier were eliminated from the results and the revised podium showed Jorgensen, Gina Sereno and Vicky Holland
Classifications
These have been the classifications
Original
| | | |
| --- | --- | --- |
| Position | Athlete | Nationality |
| 1 | Katie Zaferes | USA |
| 2 | Tereza Zimovjanova | CZE |
| 3 | Gwen Jorgensen | USA |
| 4 | Anna Godoy | ESP |
| 5 | Mathilde Gautier | FRA |
Final Classification (After Disqualifications)
| | | | |
| --- | --- | --- | --- |
| Position | Athlete | Nationality | Time |
| 1 | Gwen Jorgensen | USA | 57:28 |
| 2 | gina serene | USA | 58:00 |
| 3 | Vicky Holland | GBR | 58:10 |