Kat Matthews 7:31:54 in the U8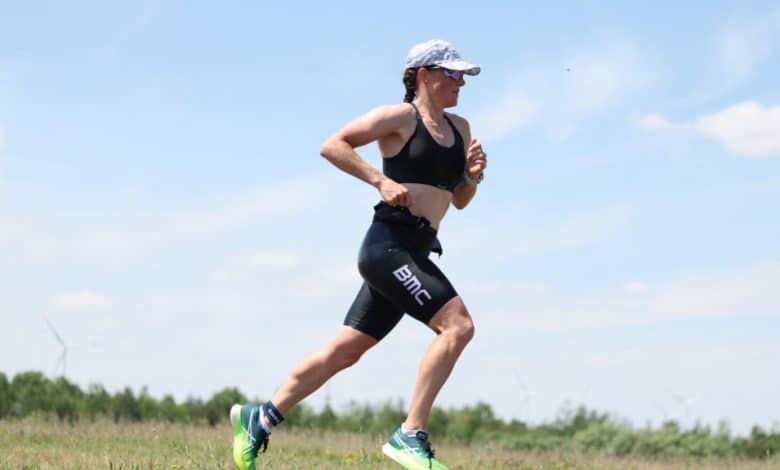 Today the Sub7Sub8 has been played, one of the most mediatic events of our sport.
In the competition, 4 triathletes (2 men and 2 women) have tried to lose 7 and 8 hours respectively in the Ironman distances (3,8-180-42,2)
In the women's event the protagonists have been Nicola Spirig y Matt Matthews where they have started the test at 7 in the morning with the 3.800 meters of swimming.
Consult the male chronicle where Blummenfelt has taken the victory
Once the swim was completed, they got on the bike and headed to the DEKRA Lausitzring circuit where the rest of the test was completed.
La competition has been marked by strategy, used to the Pacemakers to try to reduce the maximum time to the clock.
In swimming both triathletes started together with only 3 seconds difference, in the cycling segment Matthews was faster reaching T2 with a 3:10 advantage over Spririg
In the foot race the Swiss showed her strength by closing the gap on Matthews and catching up with her with just 14km to go.
Finally kat matthews She managed to maintain the advantage to take the victory with a time of 7:31:54 and be the first woman to lose 8 hours in the Ironman distance.
Nicola Spirig It has also dropped from 8 hours with a time of 7:34:09
These have been the times of both triathletes
| | | | | |
| --- | --- | --- | --- | --- |
| Discipline | Spirig | Time | mattwhew | Time |
| 3.800 meters | 0:54:40 | 0:54:40 | 0:54:43 | 0:54:43 |
| | 0:00:33 | 0:55:13 | 0:00:24 | 0:55:07 |
| 180 km | 3:53:16 | 4:48:29 | 3:50:06 | 4:45:13 |
| | 0:00:33 | 4:49:02 | 0:00:32 | 4:45:45 |
| 42,2 km | 2:45:07 | 7:34:09 | 2:46:09 | 7:31:54 |
And this is the comparison, averages with respect to the forecast that was planned
| | | | | | |
| --- | --- | --- | --- | --- | --- |
| Spirig | | | | | |
| | Distance | Time done | Rhythm | Target Time | Difference from target |
| Swimming: | 3.800 meters | 0:54:40 | 1:26 min/ 100m | 0:50:00 | 04:40 |
| T1: | | 00:33 | | 00:40 | -00: 07 |
| Biking | 180 km | 3:53:16 | 46,3 km/h | 4:19:00 | -25: 44 |
| T2: | | 00:33 | | 00:20 | 00:13 |
| Foot race: | 42,2 km | 2:45:07 | 3: 54 min / km | 2:45:00 | 00:07 |
| | | | | | |
| | | | | | |
| | | | | | |
| mattwhew | | | | | |
| | Distance | Time done | Rhythm | Target Time | Difference from target |
| Swimming: | 3.800 meters | 0:54:43 | 1:26 min/ 100m | 0:50:00 | 04:43 |
| T1: | | 00:24 | | 00:40 | -00: 16 |
| Biking | 180 km | 3:50:06 | 46,9 km/h | 4:00:00 | -09: 54 |
| T2: | | 00:32 | | 00:20 | 00:12 |
| Foot race: | 42,2 km | 2:46:09 | 3: 53 min / km | 2:40:00 | 06:09 |