The Valencian community gets involved with the triathlon WILD WOLF Triathlon Series by POLAR Bate participation records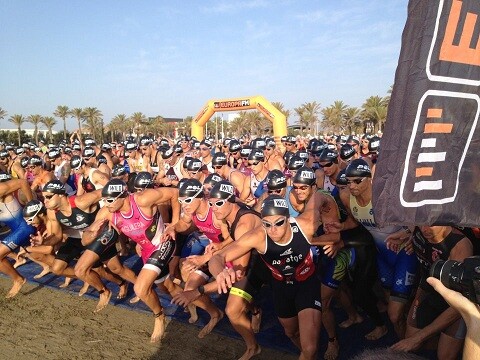 WILD WOLF Triathlon Series by POLAR is presented today as a consolidated test within the Calendar of the Valencian Federation, one of the autonomous communities with the largest fans and triathlon licenses nationwide.
After the success of the first test of this circuit held in Madrid on June 16 and 17, at 8 in the morning of Sunday the first test in the capital of La Plana began, which took place on the Olympic distance ( 1500 meters swimming, 40 km by bike to finish with 10 km of running on foot) and where the great favorite, Xavi Llobet, Club Triatló Passatge Esport and Eliana Krist Sotelo, Lobos Triatlon La Nucia, were proclaimed champions of the same.
The Sprint distance tests (750 meters, 20 by bike, 5 km of running) began at 10 in the morning, where the young Valencian promise Jose Antonio Borja and Marta Pons of the Club T Evasión Triathlon Castellón, managed to win the victory.
To complete this great triathletic day, the weekend also had a relay test for both distances where each of the three team members had to complete one of the segments that have made up the Olympic or Sprint distances
Despite the fact that the day has been presented with high temperatures that have at times exceeded 30 ºC, the triathletes have been able to count on the provisioning during the entire test courtesy of WILD WOLF, official sponsor of this circuit, who has been throughout Attentive moment to the needs of the triathletes who have accompanied us during the day.
One more year, the nerve center of this weekend's triathlon has undoubtedly been the Paseo Marítimo de el Grau de Castellón, where the pit area has been located, the main novelty being the premiere of the new cycling route that has passed through Avinguda del Mar, a great improvement, which has offered the triathlete a very wide, fast and safe circuit that has made this great day of triathlon even more exciting, if possible.
The next appointment will be on July 21 and 22 in Barcelona, ​​where the maximum number of registrants, 2400, for the Sprint distance have already been completed, with there still being places for aquathlon, Andorra being the ideal alternative for anyone who has stayed Without a place in Sprint, in the tests that will be held on the 29th of this month, a unique appointment for those who do not want to miss this month of July the opportunity to be Finisher in one of the tests of the largest national triathlon circuit, WILD WOLF Triathlon Series by POLAR.
More information: http://www.triathlonseries.org
Olympic Distance Podium
Men
1) XAVIER LLOBET SALLENT CLUB TRIATLÓ PASSATGE ESPORT 02:01:13
2) JOSE GIMENO UROZ CN SILOS 02:08:00
3) SERGIO PRADES TRIATHLON BASILISCUS 02:08:04
female
1) ELIANA KRIST SOTELO REYNOSO LOBOS TRIATLON LA NUCIA 02:21:22
2) NEUS VIDAL PUCHADES SUHECA.COM TRIATLO 02:26:20
3) MIRIAM MUÑOZ GONZÁLEZ LOBOS TRIATLON NUNCIA 02:26:32
Podium Distance Sprint
Men
1) JOSE ANTONIO BORJA GONZALEZ 01:05:44
2) IVÀN R. RONCHERA GUIMERÀ JIJI-JAJA 01:06:14
3) DARIO CARDONA FERNANDEZ CLUB ALMENARA TRIATLO 01:06:21
female
1) MARTA PONS PEÑA T EVASION TRIATHLON CASTELLON 01:13:51
2) CRISTINA SAN MARTIN BAEZA INDEPENDENT 01:15:51
3) VANESSA IGLESIAS MORENO BLUE MORVEDRE TRIATLON 01:15:58