Lance Armstrong plans to run the Tour of Spain to prepare the ironman of Hawaii (April Fool Day fool)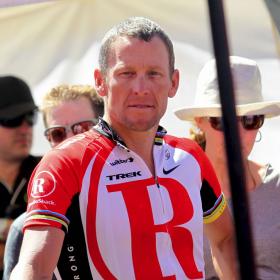 According to the Velonews website, which cites a source very close to Lance Armstrong's environment, the Texan would be planning a second return to cycling to compete in the Vuelta a España (from August 18 to September 9) in preparation for the Hawaii Ironman (October 13).
But according to Lance on his twitter, you should not believe any of this news, and above all on April Fool Day. https://twitter.com/#!/lancearmstrong/statuses/186616663381262336
The information also explains that Armstrong would have already signed the commitment required by the World Anti-Doping Agency (AMA) and the International Cycling Union (UCI), by which they force an athlete to undergo anti-doping controls during the six months prior to his return to the competition. Enrico Carpani, spokesman for the UCI, did not confirm this point to AS yesterday, although he considers that Armstrong's return to train for an Ironman "would be strange."
For his part, Javier Guillén, director of the Spanish round, has no evidence that the North American will return, but the organization will not object if he meets the federative requirements and has his license in force.
Source: as.com