The keys of the title for Javier Gómez Noya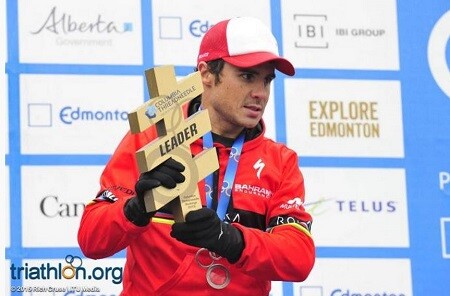 Noya depends on himself to get the fifth world title
The next Saturday 19 of September is celebrated Grand Final of the World Series in Chicago, where Javier Gómez Noya arrives as leader of the ranking with 225 points of advantage over Mario Mola.
Javier Gómez Noya what to look for get the fifth world title of ITU Triathlon, you depend on yourself to achieve it. With an advantage of 225 points over Mario Mola, it would be enough for him to get ahead of his direct rivals, Fernando Alarza , Vicent Luis and Richard Murray to take the title.
Mario Mola who got a third place in Edmonton, adding his fifth podium in the season, is the only one who has participated in all the events of the 2015 World Series.
Possible career scenarios
If Mario Mola wins, Noya will have to get up to a third place to get the title
If Vicent Luis wins and Mola is second, Noya would have to be fourth to get the title.
If Mola is third and Luis Vicent does not win, it would be enough for Noya to get fifth place.
As for the chances of getting the triplet with the triarmada formed by Noya, Mario Mola and Fernando Alarza, the Galician and Mallorcan depend on himself and so that Fernando Alarza get the third place their direct rivals, Richard Murray and Vicent Luis would have to occupy the last places of the top 10.
Classification of the Ranking
| | | | | |
| --- | --- | --- | --- | --- |
| 1. | | ESP | | 3820 |
| 2. | | ESP | | 3595 |
| 3. | | FRA | | 3543 |
| 4. | | RSA | | 3290 |
| 5. | | ESP | | 2961 |
| 6. | | AUS | | 2601 |
| 7. | | RSA | | 2518 |
| 8. | | POR | | 2344 |
| 9. | | GBR | | 2340 |
| 10. | | ESP | | 2321 |
Points of the Grand Final
| | |
| --- | --- |
| 1 Position | 1200 points |
| 2 Job title | 1110 points |
| 3 Job title | 1027 points |
| 4 Job title | 950 points |
| 5 Job title | 879 points |
Photo: ITU