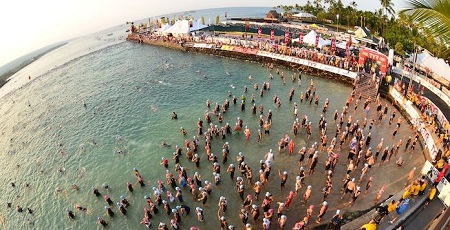 Spaniards Eneko Llanos, Ivan Raña and Víctor del Corral are among the favorites
The next October 11 the best triathletes in the world will compete for the IRONMAN World Championship in Kona. The organization has published the definitive list of entries where 54 men and 38 women participate.
The Spanish Eneko Llanos, Ivan Raña y Víctor del Corral they leave among the favorites to be in the positions of honor, although champions of the stature of Frederik Van Lierde, Pete Jacobs o Craig Alexander sure they will have a lot to say.
Male start list
1 Frederik Van Lierde BEL
2 Luke Mckenzie AUS
3 Sebastian Kienle GER
4 Bart Aernouts BEL
5 Tyler Butterfield BER
6. Timothy O'Donnell USA
7 Ivan Rana ESP
8 James Cunnama RSA
9 Jan Frodeno GER
10 Terenzo Bozzone NZL
11 Craig Alexander AUS
12 Pete Jacobs AUS
14 Victor Morales ESP
15 Andy Potts USA
16 Michael Weiss AUT
17 Igor Amorelli BRA
18 Matthew Russell USA
19 Joe Gambles AUS
20 Tim Van Berkel AUS
21 Daniel Halksworth GBR
22 Chris McDonald USA
23 David Plese SVN
24 Marino Vanhoenacker BEL
25 Eneko Llanos ESP
26 Maik Twelsiek GER
27 Elliot Holtham CAN
28 Faris Al-Sultan GER
29 TJ Tollakson USA
30 Paul Matthews AUS
31 Andrew Starykowicz USA
32 Harry Wiltshire GBR
33 Marek Jaskolka POL
34 Richie Cunningham AUS
35 Christian Kramer GER
36 Jeremy Jurkiewicz FRA
37 David Dellow AUS
38 Cyril Viennot FRA
39 Peter Robertson AUS
40 Filip Ospaly CZE
41 Ben Hoffman USA
42 Christian Brader GER
43 Nils Frommhold GER
44 Justin Daerr USA
45 Kyle Buckingham RSA
46 Romain Guillaume FRA
47 Marko Albert EST
48 Bevan Docherty NZL
49 Daniel Fontana ITA
50 Tim Reed AUS
51 Axel Zeebroek BEL
52 Boris Stein GER
53 Ronnie Schildknecht SUI
54 Andreas Raelert GER
55 Paul Ambrose GBR
Women's start list
101 Mirinda Carfrae AUS
102 Rachel Joyce GBR
103 Meredith Kessler USA
104 Liz Blatchford AUS
105 Caroline Steffen SUI
106 Gina Crawford NZL
107 Yvonne Van Vlerken NED
108 Linsey Corbin USA
109 Caitlin Snow USA
110 Elizabeth Lyles USA
111 Leanda Cave GBR
112 Daniela Ryf SUI
113 Amber Ferreira USA
114 Melissa Hauschildt AUS
115 Sara Gross CAN
116 Catriona Morrison GBR
117 Mary Beth Ellis USA
118 Melanie Burke NZL
119 Asa Lundstrom SWE
120 Beth Shutt USA
121 Michelle Vesterby DNK
122 Kristin Moeller GER
123 Lucy Gossage GBR
124 Amanda Stevens USA
125 Jodie Swallow GBR
126 Sophie Goos BEL
127 Natascha Badmann SUI
128 Julia Gajer GER
129 Lisa Roberts USA
130 Corinne Abraham GBR
131 Simone Braendli SUI
132 Jackie Arendt USA
133 Kimberly Schwabenbauer USA
134 Bree Wee USA
135 Jessie Donavan USA
136 Heather Wurtele CAN
137 Kelly Williamson USA
138 Katja Konschak GER
Photo: Ironman