The starting list of the 2023 women's IRONMAN World Championship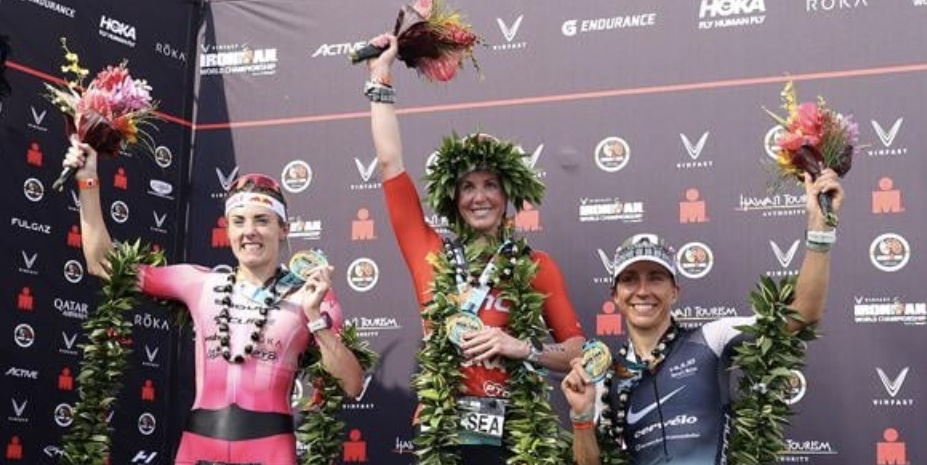 The world of triathlon is heating up again, as one of the most anticipated events of the year is approaching: the IRONMAN World Championship women's 2023.
This year, the event will take place in Kailua-Kona, Hawaii, on October 14 and will have a prize pool of $375.000.
The Big Favorites
Among the great favorites to win the title, stands out Chelsea Sodaro, last year's champion, who will wear the number 1 number.
Not far from her, Lucy Charles-Barclay, four-time runner-up in the event, will wear bib number 2.
Anne Haug, champion in 2019 and third last year, will wear bib number 3n and Daniela Ryf, five-time world champion, will seek her sixth title with the number 4.
Surprises and Debutantes
One of the big surprises on the starting list is Taylor Knibb, the American athlete who plans to make her debut in the full distance of IRONMAN in Kona.
Taylor, who will wear the number 5, has just successfully defended his world title at the distance 70.3 in Lahti, Finland.
But what makes his participation even more special is that he will compete alongside his mother, Leslie Knibb, an IRONMAN World Championship veteran who has competed in the event six times, achieving two podiums.
Other athletes who could surprise are Melanie McQuaid, the first 50-year-old woman to qualify as a professional for the IRONMAN World Championship, and Jen Annett, both from Canada
Also, we can't forget Kat matthews, from Great Britain, who has made an incredible comeback in competitions after being hit by a car while training for last year's edition.
Gurutze Frades the Spanish participant
Frades will be the only Spanish representative in the PRO category of the 2023 women's IRONMAN World Championship in Hawaii.
At 42 years old, this will be his seventh participation in the event in the professional category.
In previous editions in Kona, he has managed to finish in 15th position both in 2019 and last year, 24th in 2018 and 22nd in 2017. In St. George 2022 'Guru' finished in 9th place.
These are your shares
| Year | Position |
| --- | --- |
| 2019 | ª 15 |
| 2018 | ª 24 |
| 2017 | ª 22 |
| 2016 | ª 33 |
The Complete List
In addition to the favorites, the full list includes more than 55 professional athletes and more than 2.000 women in age groups.
| BIB | Last Name | Name | Country Represented |
| --- | --- | --- | --- |
| 1 | Sodaro | Chelsea | USA |
| 2 | Charles-Barclay | Lucy | GBR |
| 3 | Haug | Anne | DEU |
| 4 | Ryf | Daniela | CHE |
| 5 | Knibb | Taylor | USA |
| 6 | Philip | Laura | DEU |
| 7 | north | Lisa | SWE |
| 8 | Langridge | Fenella | GBR |
| 9 | Crowley | Sarah | AUS |
| 10 | Moench | Skye | USA |
| 11 | Siddall | Laura | GBR |
| 12 | Matthews | Cat | GBR |
| 14 | True | Sarah | USA |
| 15 | Friars | Gurutze | ESP |
| 16 | Simpson | Kylie | AUS |
| 17 | Wilms | Lotte | NLD |
| 18 | Astle | Ruth | GBR |
| 19 | Fisherman | Els | NLD |
| 20 | Robertson | Jodie | USA |
| 21 | Olive tree | pamela | BRA |
| 22 | Zilinskas | Rachel | USA |
| 23 | Lane | Chloe | AUS |
| 24 | McCauley | Jocelyn | USA |
| 25 | Stage Nielsen | Maja | DNK |
| 26 | Lewis | Danielle | USA |
| 27 | Clarke | Rebecca | NZL |
| 28 | Chura | Haley | USA |
| 29 | Thoes | Svenja | DEU |
| 30 | Kahlefeldt | Radka | CZE |
| 31 | Bleymehl | Daniela | DEU |
| 32 | Riveros | Barbara | CHL |
| 33 | Slater | Penny | AUS |
| 34 | Cheetham | Susie | USA |
| 35 | Brandon | Lauren | USA |
| 36 | Jerzyk | Agnieszka | POL |
| 37 | Carpenter | Laura | DEU |
| 38 | Jansen | Laura | DEU |
| 39 | Berry | Hannah | NZL |
| 40 | Collonge | Jeanne | FRA |
| 41 | Annett | Jen | CAN |
| 42 | McQuaid | Melanie | CAN |
| 43 | Konczalla | Leonie | DEU |
| 44 | Moriarty | Fiona | IRL |
| 45 | Svensk | Sara | SWE |
| 46 | Gillespie-Jones | Kate | AUS |
| 47 | Mathieux | Justine | FRA |
| 48 | Watt | Alex | USA |
| 49 | Thomas | Sarah | AUS |
| 50 | Borges de Andrade | Mariana | BRA |
| 51 | Hughes | Hilary | IRL |
| 52 | Brown | Laura | AUS |
| 53 | D | Carla | FRA |
| 54 | Genet | Manon | FRA |
| 55 | Vesterby | Michelle | DNK |