List of Spanish triathletes in the IRONMAN St. George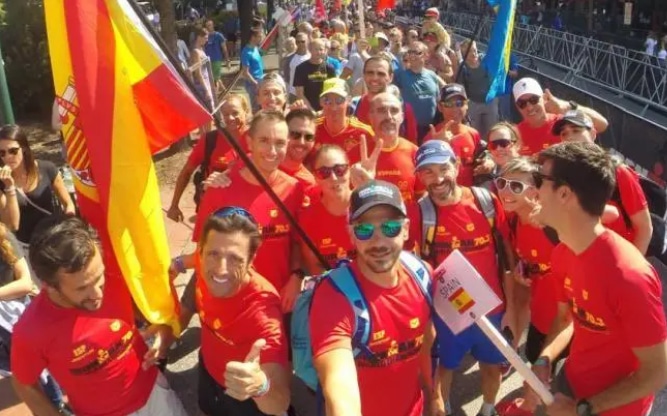 On May 7, the first IRONNAN World Championship in St. George (USA) where 41 Spaniards will be.
In the professional category there will only be one Spanish representative Gurutze Frades.
List of professionals in the IRONMAN ST. george 2022
This is the list with the BIB.
Spanish list World IRONMAN St. George
| | | | | |
| --- | --- | --- | --- | --- |
| Bib | NAME | SEX | AGE | COUNTRIES |
| 111 | Llorenc Prats Manach | MALE | 40 | ESP |
| 157 | Borja Fernandez Vidal | MALE | 40 | ESP |
| 169 | Jose Maria Lopez-Morales | MALE | 40 | ESP |
| 239 | Daniel DeMiguel Lawrence | MALE | 41 | ESP |
| 302 | Richard Ledain Santiago | MALE | 42 | ESP |
| 428 | Pablo Arboleya Iglesias | MALE | 43 | ESP |
| 429 | Ner Albiol Bernal | MALE | 43 | ESP |
| 450 | Vincent Palones Llopis | MALE | 43 | ESP |
| 475 | Miguel Angel Urrutia Fernandez | MALE | 43 | ESP |
| 578 | Nacho Cabal Garcia placeholder image | MALE | 44 | ESP |
| 739 | Eduardo Guerrero-Strachan | MALE | 35 | ESP |
| 902 | Mario Bartholomew | MALE | 38 | ESP |
| 919 | Hernan Dall'Aglio | MALE | 38 | ESP |
| 922 | Michael Meadows | MALE | 38 | ESP |
| 942 | Ignacio Lopez-Mancisidor | MALE | 38 | ESP |
| 1034 | Francesc Serrano Boat | MALE | 39 | ESP |
| 1052 | William King Carlon | MALE | 30 | ESP |
| 1116 | Pablo Marcos Pazos | MALE | 31 | ESP |
| 1382 | Angel Mancebo Alvarez | MALE | 61 | ESP |
| 1473 | Thomas Latorre | MALE | 55 | ESP |
| 1752 | Big Albert | MALE | 50 | ESP |
| 1765 | Francisco Farinas | MALE | 50 | ESP |
| 1824 | Oscar Rosingana Knight | MALE | 50 | ESP |
| 1921 | Jose Ramon Callen | MALE | 51 | ESP |
| 1935 | Fernando Barahona De Andrés | MALE | 51 | ESP |
| 1968 | Gorka Garitaonandia Azueta | MALE | 52 | ESP |
| 1985 | Carlos Sagasta | MALE | 52 | ESP |
| 2031 | Andres Dominguez | MALE | 52 | ESP |
| 2127 | Moi Gonzalez Martinez | MALE | 53 | ESP |
| 2440 | Faith Ballenilla Marco | MALE | 45 | ESP |
| 2461 | jorge lopez palenzuela | MALE | 45 | ESP |
| 2625 | Marcus Puigdollers | MALE | 47 | ESP |
| 2640 | Daniel Hervas Rubio | MALE | 47 | ESP |
| 2658 | Juan Francisco Serrano-Navarro | MALE | 47 | ESP |
| 2694 | Jaime Menendez From Luarca | MALE | 48 | ESP |
| 2740 | Jose Maria Camacho Fernandez placeholder image | MALE | 48 | ESP |
| 2746 | Jose Maria Azcarate Ayerra | MALE | 48 | ESP |
| 2774 | Emily Valero | MALE | 48 | ESP |
| 2903 | Xavi Castillero | MALE | 49 | ESP |
| 3003 | Rocio Munoz Fuertes | female | 40 | ESP |
| 3105 | Maria Jesus Sierra Barroso | female | 43 | ESP |
Here you can check the complete list of triathletes who will be in the test
Participants IRONMAN St. George 2022