Lucy Charles wins her first world championship and makes history at IRONMAN Hawaii
He has broken the test record with 8:24:31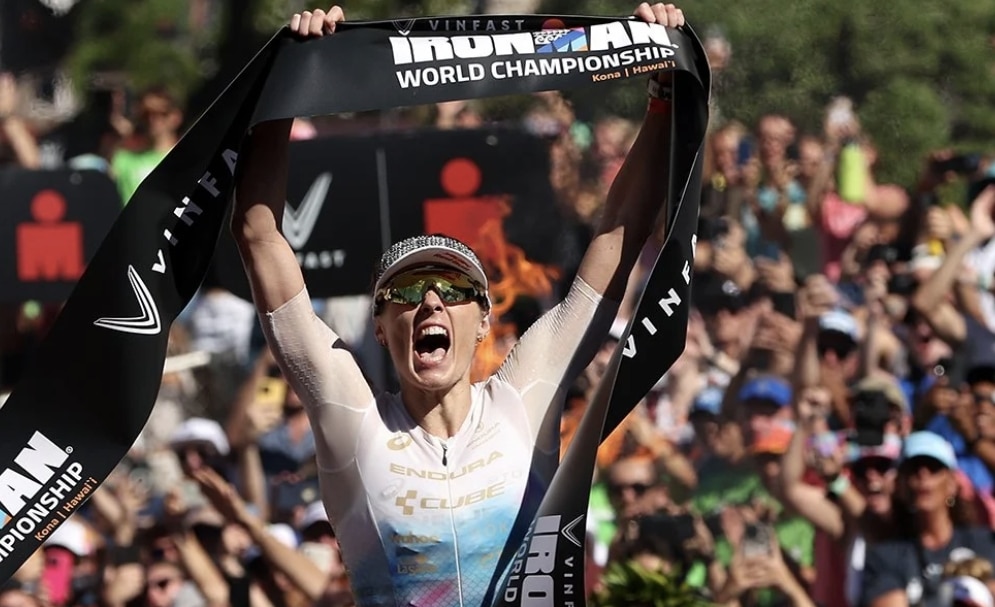 During yesterday and this morning it was celebrated in the city of Kona, the IRONMAN World Championship, where we could see the historic victory achieved by the British triathlete who trains at Club La Santa Lucy Charles-Barclay.
The test was held under the LD format with 3.86 km of swimming, 180.25 km of cycling and 42.20 km of running.
The victory of Lucy Charles-Barclay at this year's IRONMAN World Championship is not only a milestone in his career, but also the culmination of years of effort and dedication.
Charles has come close to the title on several occasions, being runner-up in previous years.
This victory in Kona is especially meaningful for her as it breaks her streak of second place finishes and finally crowns her as the world champion many knew she could be.
Without a doubt, this victory marks a before and after in his career, and sets a new standard for future editions of the championship.
"It's really hard to put it into words."said Lucy at the finish line. "I have wanted this so badly since I started my career. It took me five tries and I finally did it. I am more than happy".
Career Chronicle
Swimming Segment
The 3.86 kilometer swim segment in the waters of Kailua-Kona was a spectacle in itself.
Lucy Charles-Barclay She came out of the water like a bullet, clocking a time of 49:36, which positioned her as the undisputed leader from the start.
Haley Chura She followed closely, although 30 seconds behind, with a time of 51:06. Taylor Knibb She also showed her prowess in the water, starting third, a minute behind Charles-Barclay.
The difference between the top 10 was approximately 5 minutes, which left the test open for the following segments.
Cycling Segment
The 180.25 kilometer cycling segment was where Lucy Charles-Barclay consolidated his leadership.
With a time of 4:32:29, she was the first to reach T2. But not all was easy; Taylor Knibb She followed closely with a time of 4:34:00, just 2 minutes behind.
Laura Philipp, who had left the water in 21st position, made a spectacular comeback, arriving third in T2 with a time of 4:35:52.
The difference between the top 10 in this segment was around 12 minutes, which added more excitement to the race before the final marathon.
Foot Race Segment
The final segment, a 42.20 kilometer run, was the scene of an epic battle.
Although Lucy Charles-Barclay She wasn't the fastest in this segment, but her time of 2:57:38 was enough to maintain her lead.
Despite a problem with her Achilles tendon, Lucy did not give up ground and maintained her lead until crossing the finish line with a time of 8:24:31, breaking the circuit record.
Anne Haug, who had been lagging behind in the previous segments, showed her quality in the marathon, setting the best time in the running race with 2:48:23.
Laura Philipp She also maintained a consistent pace, finishing third in the event with a time of 2:55:24. The fourth and fifth classified were Taylor Knibb (8: 35: 56) and Daniela Ryf (8: 40: 34).
See this post on Instagram
New record
The performance of Lucy Charles-Barclay In this World Cup it has been a demonstration of dominance in all disciplines, since she dominated the test from start to finish, being the first woman to do so.
But also, Lucy established a new record in Kona with a total time of 8:24:31, breaking the previous time of 8:26:18 achieved by Daniela Ryf in 2018.
Top 10 female
| Job title | Athlete | Final time | Difference |
| --- | --- | --- | --- |
| 1 | Lucy Charles-Barclay | 8:24:31 | - |
| 2 | Anne Haug | 8:27:33 | + 3: 02 |
| 3 | Laura Philipp | 8:32:55 | + 8: 24 |
| 4 | Taylor Knibb | 8:35:56 | + 11: 25 |
| 5 | Daniela Ryf | 8:40:34 | + 16: 03 |
| 6 | Chelsea Sodaro | 8:42:25 | + 17: 54 |
| 7 | Skye Moench | 8:43:34 | + 19: 03 |
| 8 | Sarah True | 8:47:06 | + 22: 35 |
| 9 | Lisa Norden | 8:49:36 | + 25: 05 |
| 10 | Jocelyn McCauley | 8:50:39 | + 26: 08 |
Check the complete results