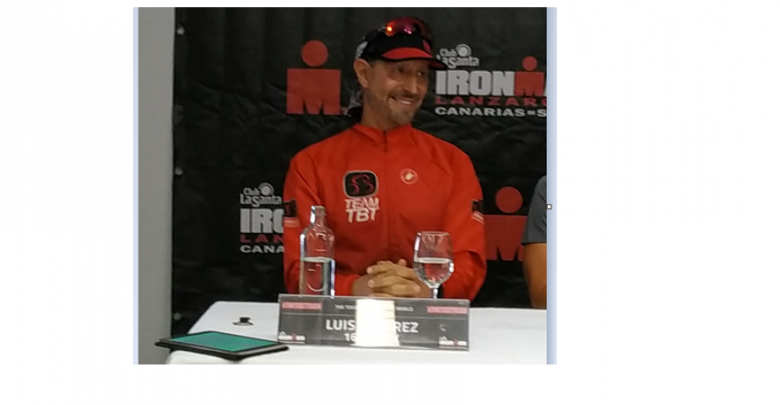 Today at the press conference of professional athletes of the Club La Santa IRONMAN Lanzarote the Mexican has been present Luis Alvarez, amateur triathlete 57 years, that tomorrow will take the start in the XXVIII edition of the test, with the intention of getting your 165ª participation in an IRONMAN distance test.
The feat of Luis, is not alone in this fact, which already has a great merit, if not coming to have been blind for 2 years ago, in the descent of Everest at a height of 8.300 meters, due to a freezing of the corneas
When I had 23 years I smoked, and I weighed 96 kilos
"When I had 23 years smoked and weighed 96 kilos, it was at the moment that I decided that I should start doing sports and today I am here to try to complete my 165 Ironman"He told us at the press conference.
From manager of 3 companies to lecturer
Luis Alvarez was a recognized businessman until two years ago, since when he regained his vision after the descent of Everest, he decided to change the course of his life by becoming an amateur athlete, lecturer and sports coaching.
"Two years ago my life took a radical turn, 3 managed companies, but after losing the whole of sight in the descent of Everest arriving at C2, due to a freezing of the corneas, I decided to change my life".
Now he is dedicated to lecturing around the world talking about his history and offering others an experience of improvement. But this is not all since it also helps blind athletes to run marathons, IRONMAN and cycling tests, showing them that blindness is not a limitation to be able to enjoy the sport.
Going down to Everest his corneas froze
He also commented to us on the wheel how the event of losing his vision occurred "Arriving at camp 3 (8.300 meters) he found two companions, Jorge Salazar and Jorge Hermosillo and when he descended to 7.100 meters he realized that his corneas were frozen and he had lost 100% of his sight. They helped him down from there.
His teammates did not let him rest in Camp 2, as it was important to get off as soon as possible and although on the descent he had several incidents, falling into holes where his knee was damaged, they managed to get him down in time.
The moment he arrived at base camp he began to see shadows again and felt that he could recover his sight, beginning his change of life at that moment.
A whole story of improvement that will continue tomorrow when the IM Lanzarote begins.
You can follow Luis Álvarez on Instagram @luisalvarezironman o Facebook.
Carlos Ramirez. The Iron Man Spanish
With 88 Ironman finished, last May Carlos Ramirez completed his last test in the Ironcat. Carlos was finisher in Lanzarote in the years 2001,2002 and 2006.
Carlos, after his participation in Ironcat commented the following in his social networks:
«On Saturday 18 of May I was able to complete my Ironman number 88, taking the 88 number and finishing in the 88 position. And with this I have finished all editions of the Ironcat that as always receives us with incredible hospitality, as well as a strong wind. Congratulations to all who finished because it was a very complicated day.
On a personal level this test has been a real challenge because of how complicated this year is. "