Tomorrow Saturday 1 of September celebrates the XXVII edition of the Guadalajara Triathlon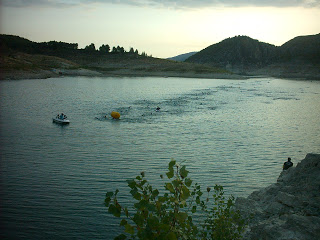 Tomorrow Saturday 1 September is the 27th edition of the Guadalajara Triathlon, the oldest of the triathlons held in Spain, and one of the most prestigious.
At the 14: 00 hour will meet at the start of the swim, which will be held at the Couple's Azud, the 337 triathletes who have registered for the event. After 1900 meters of swimming, you will make a route of 89 kilometers that runs from Pareja, passing through Sacedón, Auñón, Alhondiga, Fuentelencina, Moratilla de los Meleros, Fuentelviejo, Lupiana and Guadalajara, ending at the athletics tracks, where the participants will wear the running shoes for 20 kilometers on an urban route of 5 kilometers to which they will give four laps.
The organization is run by the Guadalajara Triathlon Club, and is sponsored by the Guadalajara City Council and the Guadalajara Provincial Council, and has the collaboration of the Castilla-La Mancha Community Board, Club La Santa (Lanzarote) together with Ironman Lanzarote Canarias and Ironman 70.3 Lanzarote, 226ERS as official supplier of isotonic drink, SafeSportId, VelociraptorMP Running Store, CMC-BIKES, Prolight Components, Net-Display, Heavy Rent, Coriendovoy.com, Font Vella, Physiotherapy Alberto Doñoero, Gesfrio, Hernando. It also has the collaboration of entities such as the Vasija Association, the Pareja City Council, Dios Ke Ventiska Scooter Club, Park Maintenance and the Engineering and Civil Protection Material Center.
The top favorites in the men's category are three triathletes who already know victory in Guadalajara: Iván Tejero, who defends the title won last year, and the Portuguese Pedro Gomes, winner 3 times, and Sergio Marques, winner in 2007 and second in 2011 Another candidate to disturb this possible podium is David Castro, a triathlete who has been international, becoming the reserve of the Spanish team at the Athens Olympics, and who comes from being second in the Couple triathlon, and runner-up for Spain in long distance in 2010.
In women, the winner here stands out 3 times Ana Casares, who after being a mother for the third time in April is back at the highest level and will fight for victory with Saleta Castro, bronze medal in the Spanish long distance championship.
In places we must highlight Alberto Codinach and Carlos Pomar who choose to be very close to the top-5 and Yolanda Santos, who will fight to enter the podium.
The test is also Castilla-La Mancha long-distance championship and belongs to the No Drafting Series circuit.
Note that this year the Alvaro Quintero Memorial is established at the first and first premises, in honor of the ill-fated citizen of Guadalajara, architect of the City Council and athlete.
The awards ceremony with the authorities will take place on Saturday at 21:00 p.m. as soon as the test ends, on the "Fuente de la Niña" athletics tracks.