Marcel Zamora wins the ironman of Embrun and Victor del Corral finishes in second position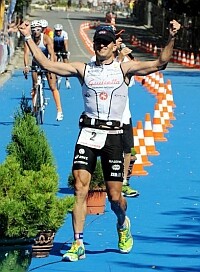 The Catalan triathlete Marcel Zamora has achieved his third Embrunman, one of the toughest tests in the long distance specialty with more than 5000 meters of accumulated positive elevation gain. This test consists of swimming 3,8 km, cycling 188 km and walking 42,195 km.
Marcel, who is currently 34 years old and who won this test in 2009 and 2010, has left behind the injury that prevented him from competing in Nice and has given a recital in the French Alps, with a final time of 9 hours. and 39 minutes. From less to more, as is usual with him, the Barcelonan has been the leader of the race in the marathon section, beating Víctor del Corral, who has entered the finish line almost ten minutes from the winner.
With this victory, Zamora is confirmed as one of the myths of the triathlon and already has nine ironman: five in Nice, three in Embrun and one in the Challenge of Calella.
Rating:
| Rank | Name | Nat | Rg / | Cat | S | Licence | Club (Dpt.) | Call us | #1 | #2 | #3 | #4 | #5 | Total | Moy. |
| --- | --- | --- | --- | --- | --- | --- | --- | --- | --- | --- | --- | --- | --- | --- | --- |
| 1 | ZAMORA PEREZ Marcel | ESP | 1 | S3M | M | 274051S3 | PEPERONCINO TRIATHLON TEAM ASD () | | 0:48:59 | 0:01:23 | 5:54:51 | 0:01:47 | 2:52:24 | 9:39:22 | 23,40 |
| 2 | FROM CORRAL MORALES Victor | ESP | 2 | S3M | M | 050419379699 | CLUB TRI MARVILLE 55 (55) | LOR | 0:51:25 | 0:01:23 | 5:48:55 | 0:01:54 | 3:04:28 | 9: 48:04 | 23,06 |
| 3 | DELLOW David | AUS | 3 | S3M | M | 34681127 | TEAM TBB () | | 0:45:28 | 0:01:25 | 5:54:47 | 0:01:36 | 3:09:09 | 9:52:24 | 22,89 |
Brand & TN