Mario Mola returns to the duathlon at the Ibiza World Cup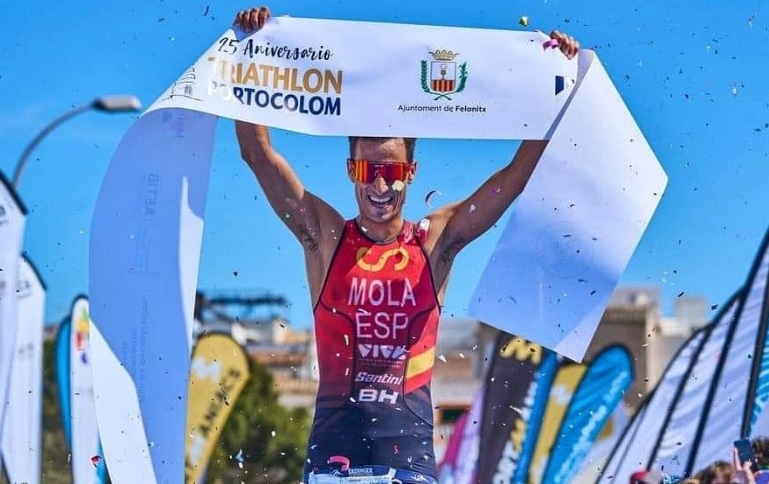 The three-time world champion Mario Mola returns to competition this coming Saturday at the Duathlon World Championship that will be held in Ibiza.
The Mallorcan puts on a number again after his good performance in the 2023 Duathlon European Championship in Caorle, Italy where he was third.
Third place in the European and victory in Triathlon Portocolom 55.5
Mola returned to international competition a month ago, in the Duathlon European Championship 2023, where he got a great third place in the elite category.
In addition, shortly after, he won the victory in the Portocolom 55.5 Triathlon, one of the best tests in the Balearic Islands and where he is also the ambassador.
Rivals to beat in the Duathlon World Cup
In Saturday's test, Mario will once again face Benjamin Choquert y Arnaud Dely, who surpassed him in the European Championship.
In addition, next to Mola, there will be the Spanish Antonio Benito, Miguel Angel Capo e Ivan GiThey form the 'Spanish Du-Armada'.
Spanish participants in the women's elite event
In the female elite category, the Spanish representatives will be María Varo, Sonia Bejarano, Maria Cabello y Martha Bourbon.
Spanish list in the world
| Dorsal | Name | Last Name | Year of birth | Country |
| --- | --- | --- | --- | --- |
| 17 | Mario | Mola | 1990 | ESP |
| 26 | Antonio | Benito Lopez | 1994 | ESP |
| 29 | Michael Angel | Crespi Bonnet | 1999 | ESP |
| 36 | Ivan | gil gomez | 1996 | ESP |
| 71 | María | Varo Zubiri | 1993 | ESP |
| 82 | Sonia | Bejarano | 1981 | ESP |
| 92 | Marta | arias hair | 1990 | ESP |
| 94 | Marta | Bourbon Llorente | 1994 | ESP |
You can check the start list in this link