Triathlon News
More than 1000 participants in the Triathlon of Cambrils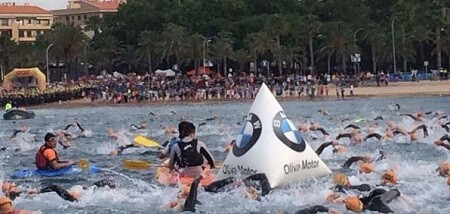 A total of 1.100 athletes, distributed in the Olympic mode and sprint, have put their grain of sand to enter the Triathlon of Cambrils in the privileged group of triathlons with more participation in Catalonia.
At eight in the morning the athletes registered in the Olympic modality jumped into the water. Flat waves and two laps to a circuit that was perfectly visible in its entirety to the public that filled a good stretch of the promenade. In just over 21 minutes Gaugeric Piqué completed the 1.500 meters of swimming and stepped on the sand followed closely by Sergi González and Ignacio Fernández.
Once the transition to the bicycle was made, a group of six triathletes began the chase of the first three. For its part, Chus Santos was the first female to leave the water, closely followed by Anna Ymbern and Leonor Font. At the end of the bicycle section, Ignacio Fernández was the leader of the competition, followed by a Fernando Zorrilla calculator and Gerard Baella. Also in the women's category the classification gave a tumbo and Alessia Bertolino entered the pits ahead of Olga Pons and Núria Rivas.

The 10 kilometers of running on the Cambrils promenade have served to Fernando Zorrilla to shore up his triumph and, in fact, as he passed through kilometer 5, the distance with the pursuers already seemed insurmountable. In the end, 2 hours and 5 minutes has been the winner's time. Sergi González It has also been squeezed in the sector on foot and has managed to take second place. Ignacio Fernandez completed the podium.
In the female category Leonor Font was the first to cross the finish arch with a time of 2 hours 26 minutes and a tight sprint decided the order of the next two steps of the podium. Alessia Bertolino took second place ahead of Núria Rivas.
At eleven o'clock in the morning and with the sun on high, the sprint mode started. Quim Sánchez, which has opened an important hole in the bicycle section, won with authority with a time of 1 hour and 5 minutes. The local athlete Alex Llaveria sand he did with second place and third place has been for Gerard Marsal. Just behind him entered a plethoric Eva Ledesma. The athlete from Lleida had already made the transition to the bicycle within the Top 8 and in the running race she has asserted her full potential to sign a spectacular test final.
The awards ceremony has been attended by the Mayor, Merce Dalmau, the territorial representative of Sports of the Generalitat, Gemma Solé, and, the councilor for sports of the City of Cambrils, Lluis Abella.
The organizers of the event, thank the trust placed in the event by all participants, institutions, sponsors, and especially the team of volunteers who have made it possible that the II edition of the Triatló de Cambrils has been a success of participation.
Graphic material and results: www.triatlodecambrils.com
RANKINGS http://sportmaniacs.com/clasificacion/ii-triatlo-de-cambrils
PHOTOS: Jordi Sanvisens