A new Triathlon circuit is born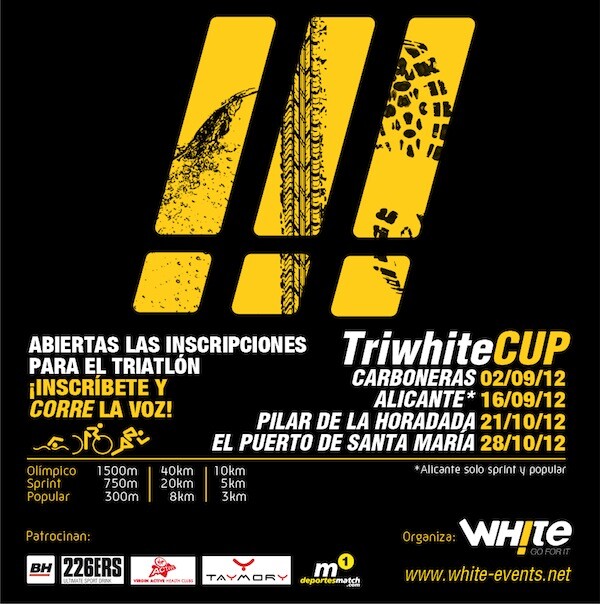 The TriWhite Cup circuit organized by the White brand of the company Educanova Consultores y Recuersos SL has already closed the venues of its four tests and opened the inscriptions under the slogan "Four tests. Four destinations A story: Triwhite Cup. "
The Alicante company has decided to organize two of its tests in the Levantine zone with the second test Triathlon Alicante the 16 of September (www.triatlonalicante.net) and Triathlon Pilar de la Horadada the 21 of October (www.triatlonpilardelahoradada.net) as third proof.
It is also planned that two of its tests will be in Andalusia on September 2 Triathlon Carboneras (www.triatloncarboneras.net) and 28 October Triathlon El Puerto de Santa Maria (www.triatlonpuertosantamaria.net). An unusual circuit that was born with the aim of becoming a reference competition with destinations different to what the participants are accustomed to.
All the events scheduled in Andalusia will have a multidistance departure - Olympic, sprint and popular - with a maximum number of entries per destination of a thousand participants and governed by the regulations of the FATRI - Andalusian Triathlon Federation. The scheduled tests for Alicante and Pilar de la Horadada, linked to the Valencian Community Triathlon Federation, will also have multidistance departure except Alicante that will only have sprint and popular outings with a maximum of 600 participants.
The official sponsors that have opted for the TriWhite Cup circuit are BH Triathlon, 226ERS -sports nutrition-, Taymory -sports clothing and equipment-, Virgin Active -Health Clubs- and Deportes Match2 -multi-brand sports store-. All will be present in the four scoring tests. In addition, local sponsors who have opted to have a test of these characteristics in their area join this project with great enthusiasm.
The design of the circuits is designed for the comfort of the triathletes and their companions. The idea of ​​the organization is that everyone can enjoy unique locations, with high recreational appeal during the weekend: tapas routes, TriKids Zone: triathlon toy library for the little ones and specific activities to structure a complete program for everyone. Likewise, White Go For It has its own project of Social Responsibility with young people Team White.
A project that began in 2011 and continues today with a project to expand to new areas. It is about creating remote models of unhealthy leisure practices among young people between the ages of 13 and 18. White intends with this initiative to combine sport and solidarity linked to its brand values.