Nicholas Kastelein wins the IRONMAN Vitoria
Víctor Arroyo has been seventh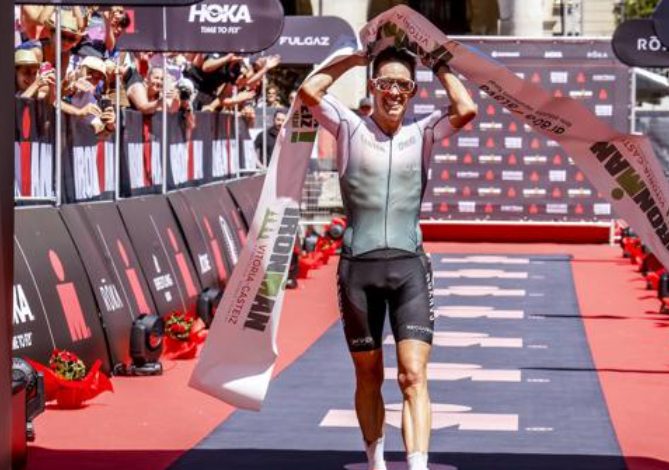 Today one of the most awaited tests of the national calendar has been disputed in terms of long-distance competitions, the IRONMAN Vitoria.
The test, which has only had male PRO competition, has had a good lineup of triathletes such as Cameron Wurf, Emilio Aguayo, Victor Arroyo, Patrick Nilsson, etc.
The first to come out of the water were Nicholas Kastelein, Peru Alfaro, Patrick Nilson and Emilio Aguayo with more than 1:40 difference from the rest of the competitors.
In the cycling segment in the first lap, Cameron Wurf showed his great strength in this segment, leading with a 2:41 advantage over a group made up of Mennesson, Nilsson, Alfaro, Kastelein and Aguayo.
Arriving at T2, Wurf increased his minute lead, arriving with almost 10 minutes over his pursuers and having many options to win the race.
The Australian took 4:01:33 in this segment at an average of 44,67 km/h.
The second to reach T2 was Tobias Thomsen at 9:32 and 9:57 by Aguayo, Sowieja, Kovacic, Nilsson and Andreas Jung.
In the foot race, Emilio Aguayo was climbing positions to reach second place at kilometer 3 of the race and begin to cut Wurf's time.
In passing through the half marathon, Wurf was still the leader with an advantage over Aguayo, who continued with a strong pace, closing the gap. Third passed Sowieja at 9 minutes.
In the final part of the test, Emilio continued to close the gap to be just 20 seconds behind the head of the race at kilometer 31 of the race, but shortly after he had to abandon the test, after walking for several minutes trying to recover.
Behind Nicholas Kastelein With a very strong pace in the marathon, he reached Wurf at kilometer 38 to finally reach the finish line and achieve victory with a time of 7:52:50.
second was Cameron Wurf (7:53:29) at 38 seconds and third Dominik Sowvieja (7:54:21) a 1:30.
Víctor Arroyo He has been the best Spaniard who, with a great foot race, has been climbing positions until finishing seventh in the test
Men's 10 Top
| | | |
| --- | --- | --- |
| Site | First Name | Time |
| 1 | Nicholas Kastelein | 07:52:50 |
| 2 | Cameron Wurf | 07:53:29 |
| 3 | Dominik Sowieja | 07:54:21 |
| 4 | Tobias Dahl Thomsen. | 08:05:43 |
| 5 | Evert Scheltinga | 08:06:25 |
| 6 | Andrej Vistica | 08:07:11 |
| 7 | Victor Arroyo Bugallo | 08:09:34 |
| 8 | silas kohn | 08:15:07 |
| 9 | Leon chevalier | 08:19:28 |
| 10 | Andreas Jung | 08:20:40 |