The podiums of the Spanish age groups in Pontevedra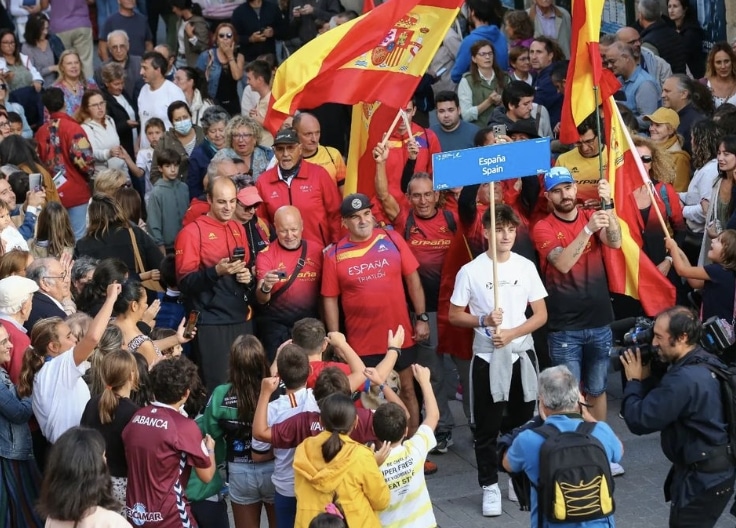 During this weekend the elite tests of the Grand Final of the World Series in the city of Pontevedra.
But in addition to the elite where Dorian Connix y Beth Potter They took the victory and the final title, the age groups have competed.
You can check the female chronicle y Male of the test or videos of the race.
24 medals for Spanish age groups
The final day of the competition turned out to be a resounding triumph for the Spanish Age Groups, who lived an unforgettable day by taking home 13 medals.
In the Standard Distance World Cup, they won a Gold, a Silver and a Bronze, while in the Aquabike tournament, they added nine more awards: three Golds, four Silvers and three Bronzes.
If we add to these 13 medals the nine previously obtained in the Super Sprint World Championship on Friday, the national team accumulates a impressive total of 24 medals
In this article you can find the podiums in the different competitions and categories of the GGEE Triarmada.
GGEE Standard Distance World Championship
| Age group | Gender | Position | Athlete |
| --- | --- | --- | --- |
| 30-34 | Male | 2 º | Martin Barreiro |
| 70-74 | Male | ª 1 | Francisco Javier Andreu |
| 80-84 | Male | ª 3 | Francis Rodriguez |
Aquabike World Championship
| Age group | Gender | Position | Athlete |
| --- | --- | --- | --- |
| 18-19 | Female | 2 º | Erika sanchez |
| 20-24 | Male | 3 º | Leo Suarez |
| 25-29 | Male | 1 º | Adrian Picallo |
| 50-54 | Female | 2 º | María José García |
| 50-54 | Female | 3 º | Virginia Bejarano |
| 35-39 | Male | 2 º | Manuel Abuin |
| 45-49 | Male | 1 º | Victor Sanchez |
| 45-49 | Male | 2 º | Manuel Angel Froiz |
| 45-49 | Male | 3 º | Guillermo Olcina |
| 50-54 | Male | 1 º | Cesar Pereira |
GGEE Super Sprint World Championship
| Age group | Gender | Position | Athlete |
| --- | --- | --- | --- |
| 15-19 | Male | 1 º | Lucas Garcia |
| 15-19 | Female | ª 3 | Noelia Rey |
| 20-24 | Male | 3 º | Marcos Gómez |
| 30-34 | Male | 1 º | Alexander romero |
| 35-39 | Male | ª 3 | Eduardo Alberto Saavedra |
| 40-44 | Male | 2 º | David Rodriguez |
| 45-49 | Male | 3 º | Víctor Sánchez |
| 50-54 | Male | 3 º | Asier Astigarraga |
| 55-59 | Male | 2 º | Gonzalo Martin |