Rome hosts its first Triathlon World Cup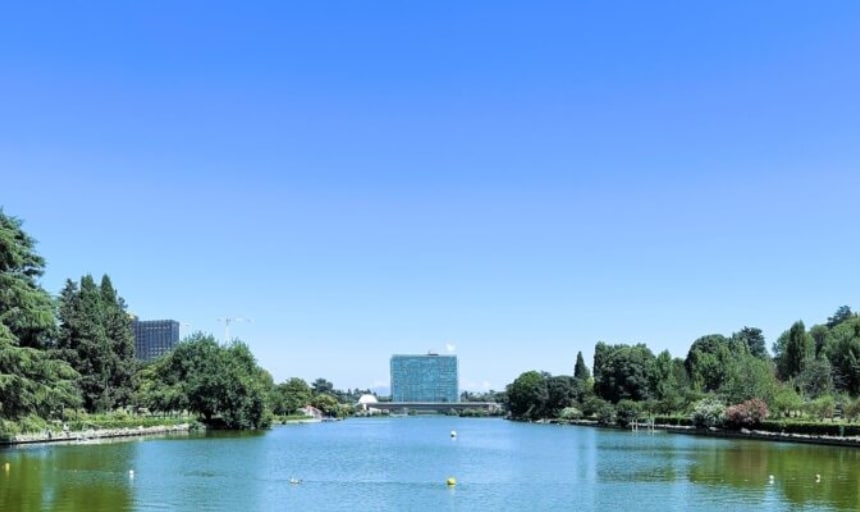 This weekend, the Italian capital dresses up to receive for the first time the Triathlon World Cup.
The event, which will take place at the Laghetto dell'EUR, promises to be a top-level sporting spectacle.
The competition, which is held under sprint distance, will begin with a 750-meter swim, followed by a 20 km cycling segment and will end with a 5 km run. The event promises to be exciting from start to finish.
F
avorites
In the male category, Basque Vilaca from Portugal is undoubtedly the favorite, but there are other names that could also surprise.
Csongor Lehmann from Hungary has had exceptional performances in recent seasons, including a gold at the World Cup in Karlovy Vary.
The Italians Michele Sarzilla y Gianluca Pozzatti They are also strong contenders. Pozzatti finally scored a Cup gold in Miyazaki last year and could be looking to repeat that success. Nicolo Strada, another young and talented Italian, could also make a strong appearance.
Marten Van Riel from Belgium is looking to regain his 2022 racing form after a long injury layoff. Vetle Bergsvik Thorn from Norway, who finished third in Tangier, could also be a strong contender for a podium spot.
From Great Britain, Harry leleu y Connor bentley They are also names to take into account. Leleu had a fourth place finish in his best race in Morocco and Bentley is the 23 Under-2022 World Champion.
We will also have to take into account the Spanish Antonio Serrat , Roberto Sanchez, Sergio Baxter, David Castro o David Cantero de Campo, who won in Valencia,
Favorite
In the female category, Nina Eim She is not the only one who arrives with high expectations.
The Italian team also has strong contenders such as Verena Steinhauser, who has won two bronze medals in Arzachena and another in Weihai.
Bianca Seregni, another Italian, has demonstrated her ability in swimming, cycling and running, achieving consecutive podiums in Karlovy Vary and her first gold medal in Weihai in August.
Alice Betto, another talented Italian, has returned strongly, achieving a top 10 in Pontevedra and showing the same bravery that led her to a seventh place finish at the Tokyo Olympics.
From Great Britain, Vicky Holland, medalist in Rio 2016, is also looking to make a strong return after motherhood.
Other names to keep in mind are Therese Feuresinger (AUT) and Olivia Mathias (GBR), who are strong in swimming and could lead from the start. Tilda Mansson (SWE) is another athlete who has shown strong finishing power, like the Spanish Noelia Juan.
The young promises like Maria Tome (BY), Angelica Prestia (ITA) and cathia schar (SUI) also arrive with podium aspirations, just like Natalie Van Coevorden (AUS), jolien vermeylen (BEL), Solveig Lovseth (NOR) and Alberte Kjær Pedersen (DEN).
As for the Spanish women, Noelia Juan stands out, Anna Godoy Contreras and Marta Pintanel Raymundo.
Schedules and how to follow the competition
The women's event will begin at 9 in the morning and the men's at 12:00 p.m. Saturday October 7th...
You can follow live through Triathlon Live.tv
List of Spaniards
The Triarmada will be made up of 9 Spaniards, 6 men and 3 women
Men
| Exit Number | Name | Year of birth | Country |
| --- | --- | --- | --- |
| 4 | Antonio Serrat Seoane | 1995 | ESP |
| 5 | Roberto Sanchez Mantecon | 1996 | ESP |
| 9 | David Castro Fajardo | 1993 | ESP |
| 11 | Sergio Baxter Cabrera | 2000 | ESP |
| 21 | David Cantero Del Campo | 2003 | ESP |
| 30 | Genis Grau | 1994 | ESP |
Women
| Exit Number | Name | Year of birth | Country |
| --- | --- | --- | --- |
| 9 | Noelia Juan | 1996 | ESP |
| 23 | Anna Godoy Contreras | 1992 | ESP |
| 25 | Marta Pintanel Raymundo | 1999 | ESP |
Rome, the eternal city
Rome is not only a historical city, but also a tourist and sports destination. The Laghetto dell'EUR, where the competition will take place, is an emblematic place that offers a perfect combination of nature and architecture.