Triathlon News
Punta Umbría prepared for the Duathlon European Championship with the best poster in history
It will be attended by Alistair Brownlee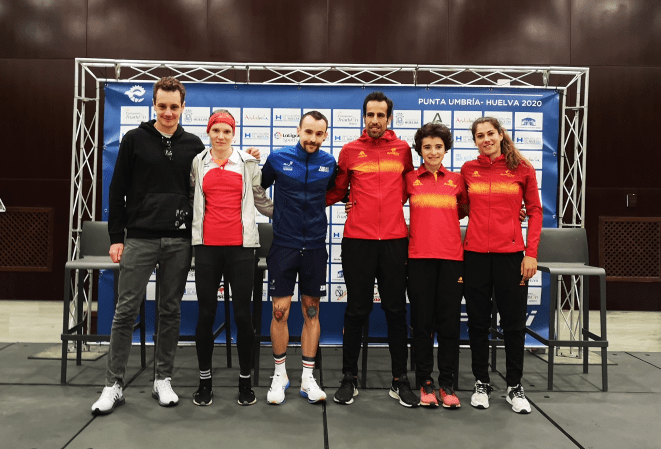 Everything is prepared in Punta Umbría to welcome the best from tomorrow Duathlon European Championship of history
In the test confirmed duathletas the size of the Huelva Emilio Martín, double world champion, French Benjamin Choquert, reigning world champion, or British triathlete Alistair Brownlee, registered last minute
The Briton starts his season in the province of Huelva towards Tokyo Olympics, where he aspires to achieve his third gold.
The French and Brownlee the rivals of the Duarmada
The French duathletes will be the main rivals to beat alongside Brownlee, with the powerful Spanish "TriArmada" led by the Huelva-born Emilio Martín, one of the best duathlets in history
We will have to take into account other top-level men such as the Belgian Vandecasteele, bronze in the World Cup in Pontevedra after Martín.
Además, Le Berre, Le Bihan o Bargetto, will accompany Benjamin Choquert in the Gallic team.
It should be noted that Choquert comes from making impressive marks in the Valencia Marathon, where he has even achieved a minimum mark for the Olympic Games for this distance.
In addition to Alistair Brownlee, the cancellation of the test in Abu Dhabi means that other top-level triathletes have decided to compete in Punta Umbría, such as the Canadian Tyler Mislawchuck (who will fight for victory in the race but cannot win the European championship), or the Belgian Simon De Cuyper.
The feminine test also very disputed
As for the female category, there will also be a spectacular and competitive day.
The Spanish Irene Loizate, reigning European champion defends her title, and Jocelyn breThey will have a hard fight against some of the best continental duathletes, like the Austrians Sandrina Illes y Lisa Perterer, the british Beth Porter, and the Portuguese Melanie Santos
The world champion will not be in the test
Finally, the current world champion, the French veteran Sandra Levenez, reigning world champion, falls off the starting list due to injury.
Saturday hours
From 13:15 the female juniors will take the start, the male juniors will follow at 15:XNUMX, and Starting at 16:45 p.m., the European Duathlon Elite and Under-23 Women's Championship starts, and at 18 p.m. the Elite and Under-23 Men.
Sunday schedule
On Sunday the European Paratriathlon Championship will be held starting at 9AM, and 20 minutes later the standard distance tests will be held for the age groups.
www.puntaumbria-huelva.triatlon.org