Roger Roca and Carla Bertos win the Cursa de la Mercè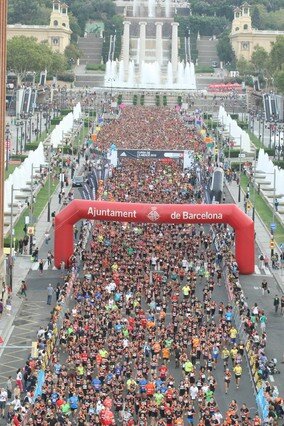 The Igualadino runner Roger Roca, with a record of 30: 41, in the men's category, and the young triathlete of 16 years Carlas Bertos (CN Prat), in females, with a chronometer of 38: 32, they have imposed themselves in the 34 edition of the Cursa de la Mercè that today has been played in Barcelona with the participation of 15.700 runners.
Photo: RICARD CUGAT
A truly red and white tide with the slogan 'Semper Olímpics' on the shirts, commemorating the 20º anniversary of the Barcelona Games, has invaded the streets of the city in which it has represented a new participation record with almost 15% more than in the last edition. The mayor of the city, Xavier Trias, started at 9.30:4.300 am with a first group of XNUMX runners, followed by the majority group five minutes later.
The late registration of the Olympic marathon runners in London 2012, Carles Castillejo, winner last year, and Nacho Cáceres, has given a very high level to the men's race, but the absence of the Moroccan Hasna Bahom, winner in three editions in women , has left the victory wide open and Carla Bertos, at just 16 years old, has become the youngest winner in the history of La Cursa de la Mercè.
He was the winner in the 2004
Over a 10 urban route very flat kilometers, in the passage through the equator of the test it was the Igualadino athlete Roger Roca who crossed alone with a record of 15:09, followed 15 seconds behind by a group of three runners, made up of Driss Lakohuaja, Jose Luis Blanco and Pol Guilen. Castillejo passed at 1:20 and Nacho Cáceres, far off the hook, four minutes behind. In women, the veteran Carme Auñón and the young Carla Bertos ran together, followed two seconds by Elena Hidalgo; the trio had totally broken the race in their category.
Roger Roca, current duathlon world champion, has repeated his triumph of the 2004 after send from start to finish and has surpassed José Luis Blanco from Lloreté by 17 seconds and the Moroccan Driss Lakouaja ​​by 20, who was unable to repeat his 2007 victory. Carles Castillejo finally occupied eighth position with a time of 32:49, while Nacho Cáceres, also far from his best form, he has entered position 120, with 37:28.
The surprise has jumped in the female category with the young Carla Bertosa promise of triathlon, debutante at Cursa de la Mercè and that in the last kilometer she has left all her rivals behind and has prevailed with a time of 38.32, with 13 seconds ahead of Elena Hidalgo from Ripo and 1:03 over the Moroccan Ouafaa Hamani, another rookie. Carme Auñón was fourth with 40:12.
Source: elperiodico.com