Roger Serrano and Merced Tusell proclaim themselves Spanish champions of Triaton Cros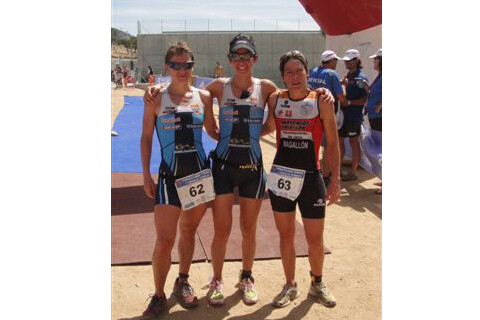 El Barraco became the center of the sport this Sunday thanks to the Spanish Cross Triathlon Championship, which was held in the town of Avila in elite categories and age groups.
Photo: FETRI
With the test the champions of Spain in the male and female category were decided after passing the swimming, cycling and running tests. In the men's category, first place went to Roger Serrano, accompanied on the podium by Carlos Martínez and Antonio José Cardona. As for the girls, the winner was Merced Tusell, the second place went to Esther Hernández and the third, to Yolanda Magallón.
As for the best-qualified Avila, it was Alberto Muela, in the 26 position.
From the organization they pointed out that the participants highlighted the hardness of the cycling part and the route on foot, although they were very happy with the test. This is also influenced by the fact that there were no major problems, although two classified had to be attended to.
About 300 people participated in the Spanish Cross Triathlon Championship, as there was also a popular test.
The championship took place in three different environments for a final route of 31 kilometers. The first part was the swimming test, which was held in the El Burguillo reservoir, specifically in the Gaznata area. There, the participants did two laps in a triangle, starting from the water.
From swimming he switched to cycling, with a 23,5-kilometre online route. It started from the El Burguillo reservoir itself to reach El Barraco, following the first 14 kilometers along the track until it reached the town's sports center, where the climb to Monte de la Cebrera began and the subsequent descent to the town.
The test ended with the part corresponding to the race, which was carried out in the vicinity of the sports center and through various streets of the town, which the athletes circled twice before being able to find out the names of the winners.
diariodeavila.es