Sam Long wins the Challenge Puerto Varas a week after the Challenge Miami.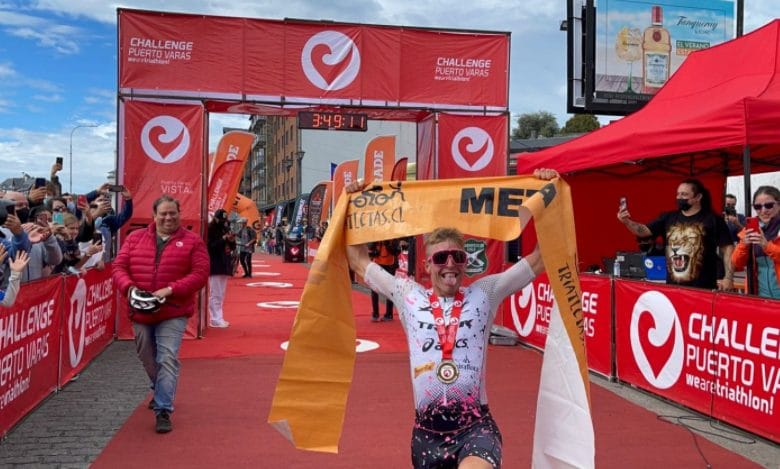 One of the best middle and long distance triathletes in the last year, Sam long, today achieved victory in the Challenge Puerto Varas (Chile) after having won last week the ChallengeMiami.
Today's test was held in el medium distance format cwith 1,9 km of swimming, 90 km of cycling and 21 of running.
Sam has achieved victory with a time of 3::48:48 followed by Matt Hanson (3: 52: 44) and for Luciano Taccone (3: 54: 42) in third position.
Long with a great cycling segment arrived at T2 with more than 5 minutes of advantage that he knew how to manage to take a clear victory.
In the women's test the victory was for Haley Chura with a time of 4: 30: 29 followed by Laura Siddall (4: 32: 28) and for Romina Palace (4: 43: 44).
The Sam Long Times
Swimming: 00:29:55, average of 01:34 min/100mts
T1: 00: 00: 58
Biking: 02:04:22, average 43.42km/h
T2: 00: 01: 08
Race on foot: 1:12:24, average 3:26 min / km
Male classification
Sam Long (USA) – 3:48:48
Matt Hanson (USA) – 3:52:44
Luciano Taccone (ARG) – 3:54:42
Reinaldo Colluci (BRA) – 3:57:15
Brent McMahon (CAN) – 3:57:29
Female classification
Haley Chura (USA) -4:30:29
Laura Siddall (GBR) – 4:32:28
Romina Palacio (ARG) – 4:43:44
Macarena Salazar (CHI) – 5:01:24
Julie Aspesletten (NOR) – 05:45:32