Sam Long and Ashleigh Gentle win the Clash Endurance Challenge Miami
Sara Pérez suffered a fall when she was leading the race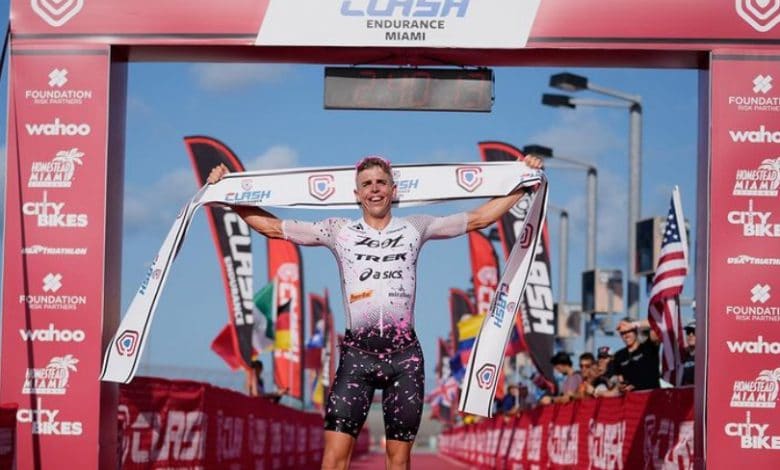 Yesterday one of the most spectacular competitions on the international circuit was held in Florida on Clash Endurance ChallengeMiami.
Sara Pérez competed in the test and had a fall while she was in the lead that forced her to withdraw from the test.
The victory in the men's category went to Sam long with a time of 2: 39: 55 followed by Jason West (2: 41: 47) and for Ben Kanute (2: 42: 31) in third position
In the women's event the victory went to the Australian Ashleigh Gentle with 2:59:41 that this 2022 begins its journey in the middle distance.
The second classified was Pamella Oliveira (3: 07: 50) and third Maja Stage Nielsen (3: 08: 08)
This was Sara's downfall.
See this post on Instagram
Male classification
Sam Long (USA) 2:39:55
Jason West (USA) 2:41:47
Ben Kanute (USA) 2:42:31
Youri Keulen (NED) 2:42:51
Tyler Butterfield (BER) 2:43:18
Female classification
Ashleigh Gentle (AU) 2:59:41
Pamella Oliveira (BRA) 3:07:50
Maja Stage Nielsen (DEN) 3:08:08
Samantha Kingsford (NZL) 3:09:08
Sonja Catano (USA) 3:16:17
Sara after winning the Volcano Triathlon came to this test as one of the favorites, since last year he got a great fourth place in what was her debut in the distance, but bad luck has not allowed her to get the victory