Triathletes Madrileños awarded at the Sports Gala held by the Community of Madrid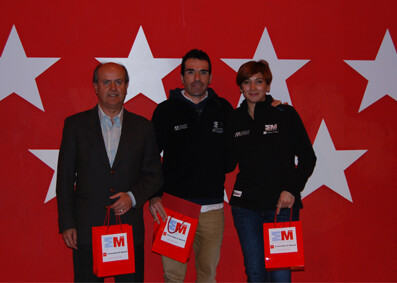 ANA BURGOS, ARMANDO BLANCO AND JOSE ALMAGRO, AWARDED TRIATLETAS
For yet another year, the Community has paid tribute to the more than 1.100 Madrid athletes at the Canal de Isabel II sports facilities for the successes achieved in 2011, among which the triathlon was attended by Ana Burgos, Armando Blanco and José Almagro.
Esperanza Aguirre, President of the Community of Madrid, was in charge of opening the event, thanking the athletes for the example they set for the public "The Community of Madrid is magnificently represented thanks to you, your effort and sacrifice for sport and I I promise to continue supporting sport in the search for new successes. For me it is a satisfaction to be able to present you with the diplomas that you have earned with your efforts, and I can only congratulate you all and good luck to those of you who will represent us in the next London 2012 Olympic event"
Esperanza Aguirre was accompanied by the Vice President and Minister of Culture and Sports, Ignacio González, the Vice Minister of Sports, Javier Hernández and the President of the Spanish Olympic Committee, Alejandro Blanco. The event, presented by athletes Almudena Cid and Chema Martínez, also served to honor the work carried out within the Autonomous Federations.
The appointment was represented by more than 50 Madrid sports federations, among which we could count on the presence of D.Lorenzo Bernal, President of the Madrid Triathlon Federation accompanied by D.Virginia Sanz, General Secretary.
During the event, various awards were given where José Almagro, a triathlete of recognized national prestige, was in charge of representing our sport.
Among other award-winning elite athletes, the professional successes of Jesús España -european champion in 5.000 sprint meters-, of the footballers De Gea and Domínguez -U21 European champions-, of the basketball players Sergio LLul and Felipe Reyes- European champions with Spain, or the Spanish champion of paddle tennis Iciar Montes. Other high-profile successes have been those of the swimmers Duane de Rocha and Aitor Martínez or those of the junior world trial champion Mario Román and that of the European under-16 tennis champion Silvia García.