Triathlon News gives you the chance to participate in Challenge Barcelona with an 50% discount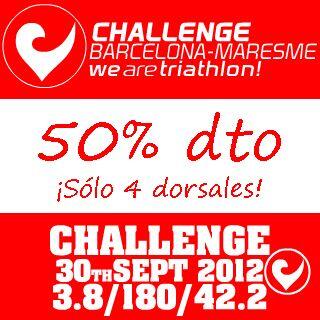 On September 30, the town of Calella will host one more year the Challenge Barcelona test that has been endorsed by the International Federation (ETU) granting it the headquarters of the European Middle Distance Championship next 2013.
Over a distance of 3800 meters by swimming, 180 km by bike and 42.2 km of running on foot, this test is attracting today the international elite as well as numerous fans of this sport who have seen the appeal of this circuit and which this year will also be the Spanish Long Distance Championship.
If you want to participate in this test, Triathlon News gives you the possibility to do so with a 50% discount on the registration price. But hurry up, we only have four promotional numbers.
https://www.tienda.triatlonnoticias.es