Triathlon News
Tyler Mislawchuk wins the Test Event in Tokyo
The test has been marked by the wind.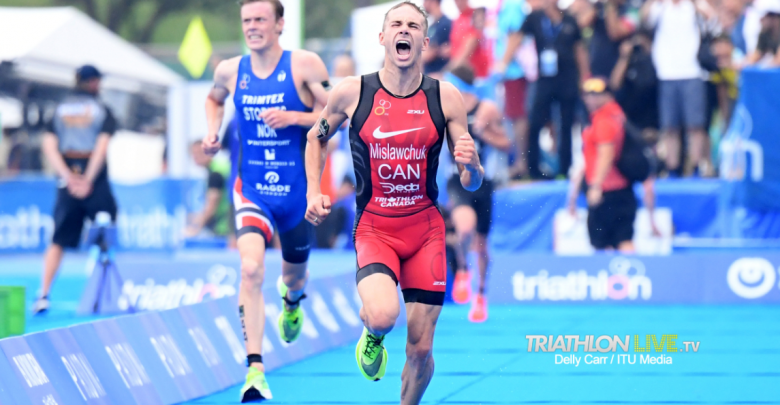 This morning the men's test of the Test Event from the Tokyo Olympics where the Canadian Tyler Mislawchuk the victory has been won
Today we have competed with good temperature, cloudy and windy day, unlike the women's test yesterday, where they had to cut 5 km of the race on foot by a high temperature alert.
The first to get out of the water was Henri Schoeman followed by Mark Devay and Richard Varga, Brownlee and Tayler Reid, in a rapid transition a group of 11 units was formed that tried to make the escape alone, although at the end of the second lap it was unified with the persecuting group, where were Jonas Schomburg Kristian Blummenfelt, Jonny Brownlee, Bence Bicsak or Tom Bishop among others.
Finally the unified group arrived at T2 where Mislawchuk was the fastest and came out on top alongside Matthew Sharpe, Schoeman and Birtwhistle, Brownlee, Wilde and Stornes.
In the race on foot the group was losing units until the final part where Wilde attacked leaving with Stornes and Mislawchuk.
Finally, Tyler Mislawchuk with a strong acceleration he managed to leave and win the race with a time of 1:49:51 followed by Casper Stornes (1: 49: 55) and for Hayden Wylde (1:50:03) which ends in third place.
As for the Spanish Genis Grau y David Castro They did not finish the test.
Male classification
| | | |
| --- | --- | --- |
| Tyler | Mislawchuk | 01:49:51 |
| Casper | Stornes | 01:49:55 |
| Hayden | Savage | 01:50:03 |
| Gustav | Iden | 01:50:25 |
| Jonathan | Brownlee | 01:50:28 |
| Joao | Silva | 01:50:36 |
| In my opinion | Bicsák | 01:50:41 |
| Pierre | Le Run | 01:51:00 |
| Jonas | Schomburg | 01:51:01 |
| Henry | Schoeman | 01:51:01 |