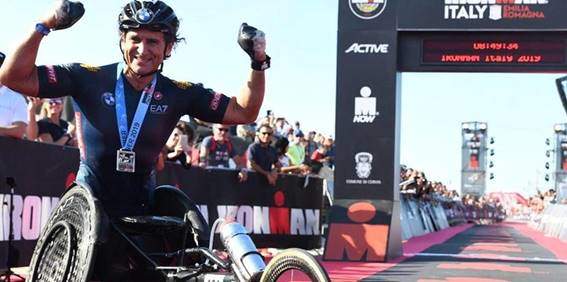 This weekend has distanced itself in Cervia, the IRONMAN and IRONMAN 70.3 Italy, a test only for age groups that is disputed in two days.
Alex Zanardi Deprived of both legs after a terrible accident in 2001, the former Formula 1 driver has established this weekend, the best worldwide performance of paratriathletes in 8: 25: 30, just before 53 turns next October 23.
On Saturday, September 21 8: 25: 30 at IRONMAN Italy
Yesterday in the IRONMAN distance test he managed to do a time of 8:25:30, getting the first place in his category
His times were 4:57:44 to complete the 180 km by bike and 2:18:23 to do 42 km in a chair. His final time: 8h.25.30
«If life continues to give me such gifts, I think I will live 200 years because I want to enjoy it!«Alex said when he reached the finish line.
On Sunday 22 of September 4: 31: 38 at IRONMAN Italy
Well, today at IRONMAN 70.3 Italy has achieved a time of 4: 31: 38 also getting the victory in its category.
His times have been 32: 43 in the 1.900 meters of swimming, 2: 31: 57 in the 90 kilometers of cycling and 1: 18: 02 to complete the 21 km of running race.
He was a Formula 1 driver
Alex Zanardi, is an Italian car driver. He was CART champion in 1997 and 1998, and obtained third place in the 1996 championship. The pilot accumulated 15 victories and 28 podiums in 66 races played in that category.
He also competed in 1 Formula for the Jordan, Minardi, Lotus and Williams teams, getting a single point in the 1993 season.
Zanardi had both legs amputated due to the serious accident he suffered at CART in 2001. In 2004 he returned to the tracks and has run with BMW in cars and large cars. He was also a gold medalist at the 2012 Paralympic Games in hand cycling, an achievement he repeated at the 2016 Games.
Zanardi managed to make history in 2014 by finishing the IRONMAN of Hawaii
A great example for all of us